Kerry collapses in Emmerdale!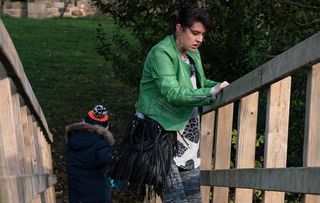 Little Kyle is left alone when Kerry slips into a diabetic coma while they're out for a walk
*Hour-long episode*
While out walking with little Kyle, diabetic Kerry starts to feel really unwell. On the footbridge, she clings on to the rails, knowing she's about to pass out. Worried for Kyle but unable to do anything, she shouts at her grandson to stay away from the water. When Kyle then appears in the cafe alone, Cain and Zak are quick to assume the worst about Kerry for 'abandoning' Kyle.
Meanwhile, Dan is worried and goes in search for Kerry, who's now on the verge of hypothermia…
Eventually, Dan, Zak and Harriet find Kerry collapsed on the footbridge and rush to give the diabetic glucose. Will she pull through? And could this emergency be the glue that cements her and Dan back together again?
A prank on Pearl has consequences for Robert who gets caught on camera hugging Rebecca. As the news filters back to Chas then to Aaron, Aaron decides to confront the issue head on.
So Robert's been planning a special surprise for Aaron – but unbeknown to him, his unaware fiance is convinced he's up to no good with Rebecca! Dreading what Robert's ex lover is going to say, Aaron musters up the courage to confront her. Reluctantly, Rebecca reveals Robert's secret. Will Robert's elaborate birthday plans fall flat?
After trying and trying to impress Megan, Frank has success when he allows her to host a party in his shop. As the evening rumbles on it seems Megan might be falling for persistent Frank after all.
Chrissie's upset when Lachlan tells her he's been beaten up – but is he telling the truth about his time in young offenders'?
Get the latest updates, reviews and unmissable series to watch and more!
Thank you for signing up to Whattowatch. You will receive a verification email shortly.
There was a problem. Please refresh the page and try again.