Lindsey's shocked by Freddie's return!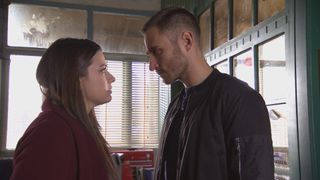 Lindsey tells Kim that Freddie's alive and goes to meet him armed with her kill kit. Lindsey's shocked, however, when Freddie rushes into her arms and tells her he's missed her – and she's relieved when he tells her he can't remember who tried to kill him. Meanwhile, Joe, Robbie and Jason head to the garage and, as they lift up the shutters, they're stunned to see Freddie with Lindsey. Robbie and Jason are overjoyed – but Joe's furious and wants Freddie out! Knowing Lindsey and Joe are having a baby, Freddie leaves… then bumps into Ellie. Elsewhere, Kim tells Lindsey she's at least four months pregnant – and the baby is Freddie's!
Still suffering from post-traumatic stress, Trevor's had multiple locks and an alarm fitted at the flat. Unable to control the thoughts in his head, Trevor storms off but bumps into Sienna, who's carrying a colouring book and pencils, and she suggests he have a go at colouring to calm him down. There's clearly a spark between Trevor and Sienna as he finally opens up.
Also, Holly breaks up with Jason. When they find out about Freddie, however, they decide to live life to the full and want to get married – immediately!
Get the latest updates, reviews and unmissable series to watch and more!
Thank you for signing up to Whattowatch. You will receive a verification email shortly.
There was a problem. Please refresh the page and try again.