Mary-Claire's taken hostage at knifepoint!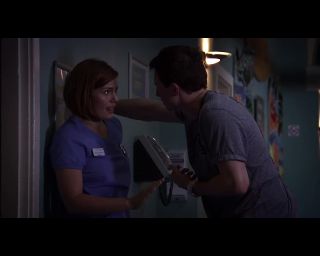 After unwittingly landing Mary-Claire in hot water with Ric, Harry wants to make amends, especially as he's still smitten with her. To forget about Harry, Mary-Claire then treats patient James, who's clearly agitated, but the pair form a bond over both being single on Valentine's Day. The friendship doesn't last long, however, when James suddenly turns on Mary-Claire and bundles her into a store cupboard, locking them both in.
As James then pulls out a knife and demands that Mary-Claire cut out an ugly tattoo on his chest, Mary-Claire fears for her life. When Harry realises Mary-Claire's being held hostage at knifepoint, he's distraught and feels a failure when he can't get her out. Later, as Mary-Claire is finally set free, she falls into Harry's arms and it seems their romance could be back on...
Meanwhile, Sacha is exhausted and full of anger following daughter Rachel's near-death and miscarriage, so when her teacher-turned-lover Aiden Kerrigan turns up on the ward, Sacha loses control and punches him! But with Rachel still intent on continuing their love affair and Sacha in danger of losing his daughter for good, can he find a way to keep Rachel and Aiden apart?
Also, with Guy's new initiative taking its toll on his staff, Jonny initiates a hospital-wide petition to fight the new regime. But, as events unfold, it looks like Jonny's campaign could prove to be his undoing...
Get the latest updates, reviews and unmissable series to watch and more!
Thank you for signing up to Whattowatch. You will receive a verification email shortly.
There was a problem. Please refresh the page and try again.