Maxine defaces Warren's banner!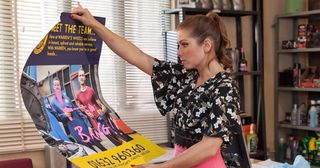 Maxine displays her drawing skills on Warren's banner for the garage – and he isn't happy...
Maxine's spiralling out of control and asks Joe to stop the sale of the garage to Warren. Nancy becomes anxious when she thinks she may have left a brooch in the woods when they buried Patrick, so she and Darren go back to look for it. Warren finds Nancy and Darren in the woods and locks them in the bunker. Later, Warren declares war on them all when his new banner arrives for the garage – and finds it's been sabotaged by Maxine.
Alfie's amazed when he gets a video call from his hero, Helen Sharman - the first British astronaut in space. He's even more stunned when he finds out Cindy organised it. But Cindy doesn't know anything about it and Mac realises Marnie planned it all, just as Neeta arrives home.
As Joanne panics when she finds out Mercedes could be released from prison, Diego's still begging for Myra's forgiveness. Diego asks Myra to marry him and, knowing how much he's helped Mercedes, she says yes. When he goes to visit Maria in prison, however, she threatens to tell Myra all of his secrets.
Also, Cameron is on edge as Courtney tries to track down Lockie.
Get the latest updates, reviews and unmissable series to watch and more!
Thank you for signing up to Whattowatch. You will receive a verification email shortly.
There was a problem. Please refresh the page and try again.