Me Before You - Channel 5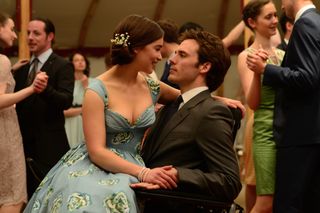 Emilia Clarke and Sam Claflin make appealing leads in this unabashed tearjerker. 3/5 stars
Based on Jojo Moyes' bestselling romantic weepie, the story assaults your tear ducts and pulls on the heartstrings, but also works up an endearing charm.
Brimming with chirpy vitality as kooky, working-class Lou, Clarke is hired as companion for Claflin's sardonic, quadriplegic toff Will.
Having been paralysed in a motorbike accident, he has his mind set on ending his life in six months. Lou's task is to persuade him to go on living.
The film takes place in a ridiculously glossy, impossibly well-heeled world, while the characters verge on stereotype. Lou's mum and dad (Samantha Spiro and Brendan Coyle) are salt-of-the-earth types, while Will's parents (Janet McTeer and Charles Dance) are distinctly upper crust.
However, thanks to the great performances - McTeer and Dance convey their characters' tamped-down emotions well, while the charismatic Clarke and Claflin breathe vivid life into their characters - genuine feelings shine through.
Get the latest updates, reviews and unmissable series to watch and more!
Thank you for signing up to Whattowatch. You will receive a verification email shortly.
There was a problem. Please refresh the page and try again.