Will Mrs Tembe be able to launch her new library?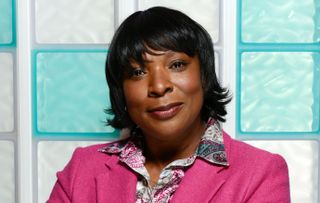 (Image credit: BBC)
Or will Daniel crush Mrs Tembe's dreams of having a library at The Mill?
It's the launch of the library and everything is going wrong, with staff calling in sick and Heston unable to work the IT system. However, when Daniel walks back into The Mill, will he agree with Zara and shut the library down? Or will Mrs Tembe be able to convince him that the library is good idea?
Erin has the shock of her life when she finds Conor in an incriminating situation. Will Conor be able to justify his actions to Erin?
Finally, Jimmi makes a life decision, that will effect everyone at the Mill, especially Mrs Tembe...
Get the What to Watch Newsletter
The latest updates, reviews and unmissable series to watch and more!
Tobi Oredein is an award-winning women's lifestyle journalist, media entrepreneur and international public speaker based in London, who focuses on race, feminism, beauty politics & popular culture. Tobi has been commissioned by Buzzfeed, British Glamour, Grazia, Elle UK, Fader, The Debrief, The Independent, The Pool, Stylist, Vice and others. She has also interviewed public figures such as Ryan Coogler, Ava Duvernay and Sir Trevor McDonald.