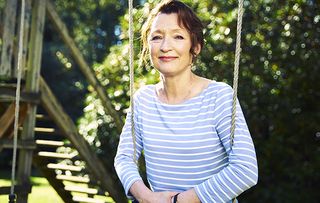 (Image credit: BBC/Big Talk Productions/Mark Jo)
More brilliantly observed comedy with Cathy (Lesley Manville) and co
More brilliantly observed comedy with Cathy (Lesley Manville) Michael (Peter Mullan) and co
While we're thrilled that one of TV's funniest but most poignant comedies is back (the whole series of Mum is available on BBC iPlayer after episode one), we're devastated that this will be the last hurrah for lovelorn Cathy (Lesley Manville) and Michael (Peter Mullan).
But the series is going out with a bang as everyone gets out of Cathy's place and goes to a country house hired by Pauline for Derek's birthday.
Pauline's at her pretentious best crowing about towels turned into swans, while Jason and Kelly have something to hide, Reg hates the smell of cows and Maureen's eaten too many Pringles.
But how long can Cathy and Michael keep their romance secret?
TV Times rating: *****
TV Times met up with Lesley, 63, to find out what lies ahead for Cathy and why all good TV things must come to an end…
Where do we find Cathy and Michael in series three?
When the series begins, you see them having a quick kiss and Michael says that she left her watch behind last night, so viewers will go, 'Ooh!' But it has only just happened and Cathy is tentative and worried about Jason getting wind of it because she is trying to protect him. But she wants to protect Michael, who she loves, too, and she has to deal with it.
Does this series have a different feel with it being in a new setting?
It's genius to take us out of Cathy's house because they are all fish out of water and out of sorts there. Even Pauline, who you think would be happy playing lady of the manor, has a big wobbly. But for us filming, we all thought, 'Yes, we're going on holiday for eight weeks!'
Get the latest updates, reviews and unmissable series to watch and more!
Thank you for signing up to Whattowatch. You will receive a verification email shortly.
There was a problem. Please refresh the page and try again.