Neighbours spoilers: Chloe Brennan kisses Elly Conway!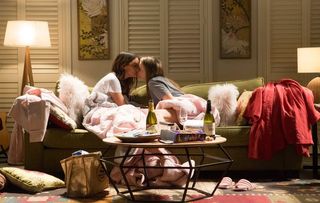 Chloe has slowly been developing romantic feelings for her good friend Elly. But how will Elly react when Chloe unexpectedly makes a move on her?
Chloe Brennan has been grateful for the support from close friend and neighbour Elly Conway after her diagnosis with Huntington's disease and her recent secret relationship with multi-millionaire Pierce Greyson.
But Elly is unaware that Chloe has secretly started to develop romantic feelings towards her.
After Elly is sacked from her school teacher job by new acting principal Jane Harris, this time Chloe is the one to offer some emotional support. But when the ladies find themselves having a cosy heart-to-heart, Chloe's secret feelings get the better of her and she moves in for a kiss with Elly! How will Elly react?
Meanwhile, doctor David Tanaka remains worried over his hubby Aaron Brennan's decision not to get tested to see if he is at risk from the Huntington's gene after Aaron's younger sister Chloe was diagnosed with the incurable brain disease.
David shares his fears with brother Leo over Aaron's refusal to get tested and his argument that he would rather not know. But will Leo manage to change Aaron's mind when he delivers some tough love?
And it's Susan Kennedy vs Jane Harris, after Susan hears how Jane has sacked her niece Elly. Susan, who has been suspended from her job as principal of Erinsborough High over a possible charge of attempted murder, is not happy about the way Jane is now running the school and decides to make it her mission to clear her name and get back to school to take charge again!
Neighbours continues weekdays at 1:45pm and 5:30pm
Get the latest updates, reviews and unmissable series to watch and more!
Thank you for signing up to Whattowatch. You will receive a verification email shortly.
There was a problem. Please refresh the page and try again.