Neighbours spoilers: Roxy and Harlow catfight in kitchen!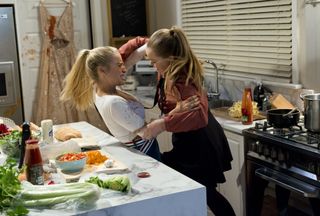 Roxy and Harlow's dislike of each other gets physical when the pair have a food fight on Neighbours! But WHO interrupts their kitchen catfight?
With Roxy Willis (played by Zima Anderson) and Harlow Robinson (Jemma Donovan) both living under the same roof at Number 22 on Neighbours, it doesn't look like the squabbling pair will be ending their feud anytime soon.
Hoping to bring peace to the warzone, Terese Willis (Rebekah Elmaloglou) decides to send the girls on a mission together to collect her wedding dress for her upcoming wedding to Paul Robinson (Stefan Dennis).
However, it's not long before wild child Roxy deliberately winds-up prim and proper Harlow by reversing the car into a wheelie bin and then parading around in Terese's wedding dress causing it to rip! Uh-oh...
Roxy is not impressed when she later discovers Harlow has dobbed her in to Aunty T. And when Roxy makes a cruel comment about Harlow's dangerous criminal dad, Robert Robinson, Harlow snaps...
The food flies as the angry pair get into a scuffle in the kitchen at Number 22. But just as things are getting really messy, there's an unexpected visitor in the shape of Paul's ex-wife, Gail Lewis (Fiona Corke)!
What is Gail doing back in Erinsborough after all these years?
Meanwhile, Leo Tanaka (Tim Kano) is forced to swallow his pride and ask his businessman dad Paul for help, after being swindled by conwoman Carmen Del Close.
Ned Willis (Ben Hall) puts the pieces together and realises he recognised Carmen from the Northern Territory and she is an Abernethy, no doubt out for revenge after all the recent drama involving Vance Abernethy!
With Leo and his Back Lane bar business partner Roxy facing financial ruin over the stolen money, Leo asks Paul for a loan to help save the business.
But Paul's generosity will come at a price: he wants controlling interest in the Back Lane bar! Will Leo give into Paul's demands?
Neighbours continues weekdays at 1:45pm and 5:30pm on Channel 5
Get the latest updates, reviews and unmissable series to watch and more!
Thank you for signing up to Whattowatch. You will receive a verification email shortly.
There was a problem. Please refresh the page and try again.