Neighbours spoilers: Terese Willis reunited with ex-lover Vance Abernathy!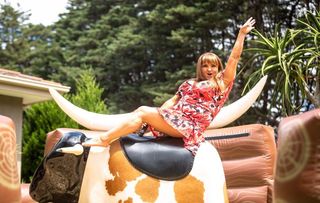 The past comes back to haunt Terese when she discovers her niece Roxy is dating her own bad boy ex-lover, Vance!
Terese Willis is still reeling from the possibility she just saw her bad boy ex-lover, Vance Abernathy, in the crowds down at Lassiters.
But, of course, Terese remains unaware her niece Roxy Willis is indeed dating Vance and has invited him to Erinsborough to make a new start!
With Roxy and Leo Tanaka now business partners, having bought the Back Lane Bar, Vance also has a stake in their new venture having given Roxy the money she needed to invest. And when Vance discovers Leo and Terese were previously an item, he is immediately intrigued...
Meanwhile, lost in thoughts about her ex-lover Vance, Terese can't resist re-visiting her own wildchild days when the mechanical bull, which Roxy set-up down at Lassiters, is relocated to Number 22.
Hoping aboard, Terese is enjoying the thrills... when Roxy returns home and decides to introduce her Aunty T to the new man in her life. Terese is shocked as she comes face-to-face with Vance and realises her former lover is now Roxy's boyfriend. Awkward!
Elsewhere in Erinsborough, the Sonya Rebecchi Foundation is up and running thanks to generous donations from both Finn Kelly and Paul Robinson. However, Toadie still can't bring himself to visit his late wife Sonya's garden nursery. Can his friends find a way to help him move foward?
And there's trouble brewing between Aaron Brennan and his husband David Tanaka, over doctor David's continuing medical study with Finn, which Aaron strongly disapproves of.
Neighbours continues weekdays at 1:45pm and 5:30pm on Channel 5
Get the latest updates, reviews and unmissable series to watch and more!
Thank you for signing up to Whattowatch. You will receive a verification email shortly.
There was a problem. Please refresh the page and try again.