You Were Never Really Here - Film4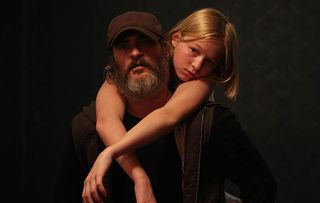 (Image credit: Studio Canal)
Playing a haunted military veteran who rescues kidnapped girls from sex-traffickers, Joaquin Phoenix is absolutely mesmerising
Playing a haunted military veteran who rescues kidnapped girls from sex-traffickers, Joaquin Phoenix is absolutely mesmerising.
Adapted from Jonathan Ames' pulp-noir novella by Scottish director Lynne Ramsay (We Need to Talk About Kevin), this is a brutally compelling thriller.
Phoenix's suicidal loner exudes a bone-weary anguish - we see fleeting flashbacks to an abusive childhood and traumatic war service - but he sets about his business with grim determination and ruthless efficiency.
Indeed, we're already flinching the moment he picks up a hammer – his weapon of choice; he rarely uses a gun – but Ramsay actually keeps most of the violence off screen or at the margins of the frame. We witness a remorseless assault on a brothel for paedophiles, for example, via fleeting moments of black-and-white CCTV footage.
Aided by Tom Townend's arresting cinematography and Jonny Greenwood's disquietingly dissonant score, Ramsay sustains a mood of intense tension and menace that really gets under your skin.
Get the latest updates, reviews and unmissable series to watch and more!
Thank you for signing up to Whattowatch. You will receive a verification email shortly.
There was a problem. Please refresh the page and try again.