Patrick's tribute concert welcomes a special guest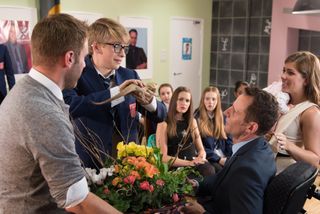 Sienna's determined to prove Maxine's taking her dad for a fool but Patrick refuses to believe it, telling Sienna he trusts Maxine because she's going to help him die. Even when she tells her dad that Maxine really wants to be with Darren, he still won't believe her until he overhears Maxine and Darren talking at the flat, while they think he's asleep. Later, Patrick arrives at his tribute concert at the school and Sienna's frustrated to see Maxine by her father's side again. But Patrick reassures Sienna he'll deal with Maxine in his own way…
Meanwhile, Nico allows new boy Alfie to follow her to school but doesn't want to make friends anytime soon. She soon changes her mind, though, when Alfie introduces her to his pet lizard, 'Jub-Jub'. Nico persuades Alfie to take Jub-Jub to school, but they panic when he goes missing… only to make a guest appearance at Patrick's tribute concert! Nathan tells Sienna and Ben to keep Nico away from Alfie – she's a bad influence.
Cameron and Celine are gobsmacked when Mercedes dolls herself up and heads out to The Tugboat. Lockie and Mercedes kiss but then Mercedes gets offended by some of Lockie's comments towards her and storms out, straight into Joe's arms. Lockie, however, has spotted this… and won't let Mercedes use him.
Also, Nancy books Charlie an appointment with a child psychiatrist, hoping she and Darren can get to the bottom of his strange behaviour. Nancy's furious, though, when Darren forgets to take Charlie while she's at Patrick's tribute concert.
Get the latest updates, reviews and unmissable series to watch and more!
Thank you for signing up to Whattowatch. You will receive a verification email shortly.
There was a problem. Please refresh the page and try again.