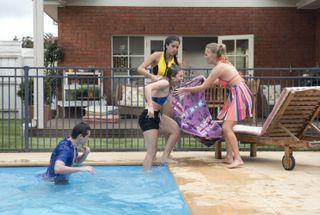 Piper is struggling after recent events
When Piper finds out that some of her peers have booked a house in Lorne for schoolies, she is adamant that her, Xanthe and Ben should go along and book the last two rooms available. Ben seems keen on the idea, but Xanthe has her reservations. She explains that she's uncomfortable at the idea of sharing a room with Ben, as she's not ready to have sex yet. How will Ben react to her announcement? Also, when Piper has an unfortunate incident in the swimming pool, will she still want to go on the trip?
Meanwhile, Paige is faced with a huge decision - should she break things off with Mark, or should she take him back? Mark desperately tries to fight for his relationship, as he promises to show Paige how special she is to him everyday. After the pair reunites, Mark tracks Jack down and apologises for his behaviour. Jack accepts his apology and the pair seem to be on good terms, until Mark unintentionally makes Jack feel like the third wheel in Gabe's life.
Also, Toadie tells Steph he's keen to have another baby, but isn't sure Sonya feels the same way. Meanwhile, Sonya tells Susan she's eager to expand their family, but isn't sure that Toadie wants the same thing. Later, Sonya expresses how she feels to her husband, but Toadie is distracted drinking a revolting smoothie and bulks when Sonya is talking. Will this pair tell each other how they feel?
Get the What to Watch Newsletter
The latest updates, reviews and unmissable series to watch and more!
Tobi Oredein is an award-winning women's lifestyle journalist, media entrepreneur and international public speaker based in London, who focuses on race, feminism, beauty politics & popular culture. Tobi has been commissioned by Buzzfeed, British Glamour, Grazia, Elle UK, Fader, The Debrief, The Independent, The Pool, Stylist, Vice and others. She has also interviewed public figures such as Ryan Coogler, Ava Duvernay and Sir Trevor McDonald.