The Possession of Hannah Grace - Sky Cinema Premiere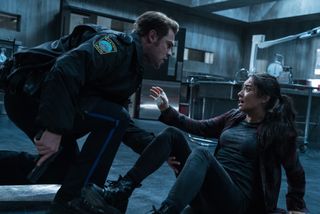 A jittery ex-cop battles a possessed corpse that refuses to lie down in this unnerving chiller. 3/5 stars
Haunted by the death of her partner and battling addiction issues, Megan (Shay Mitchell) takes a job working the graveyard shift at a Boston hospital morgue.
Her first night sees delivery of the mutilated corpse of a teenage girl - a charred, hacked and twisted cadaver that won't stay put and somehow has the power to heal itself. Having already seen the eponymous Hannah go through an unsuccessful exorcism in the opening scene, we know her body is demonically possessed...
This supernatural horror thriller has elements that are all too familiar to the genre - including a supporting cast of friends and colleagues whose only purpose is to provide potential victims.
However, Dutch-born, US-based director Diederik van Rooijen manages to overcome his film's rote script to create some genuinely unnerving chills and thrills. The clinical setting proves surprisingly threatening - watch out for the hospital's motion-activated lights - and the sound design is similarly unsettling.
Most effectively menacing of all, though, is contortionist/dancer Kirby Johnson's uncanny performance as the corpse that refuses to lie down.
Get the latest updates, reviews and unmissable series to watch and more!
Thank you for signing up to Whattowatch. You will receive a verification email shortly.
There was a problem. Please refresh the page and try again.