Reenie has shock news for Nana!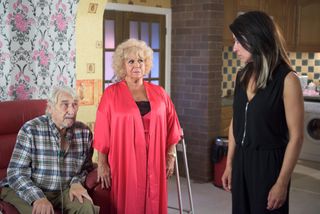 Nana's horrified when she comes downstairs and sees what Reenie was planning. Reenie's unravelling fast around Derek and swears she won't let him marry her mum. Later, Nana and Derek slow dance to their favourite record – but it's too much for Reenie, who's listening from the garden. She goes inside, turns off the song and reveals that Derek raped her! Nana won't believe it and chases Reenie upstairs. Derek tries to follow but is in too much pain. Nana realises Reenie's telling the truth and hugs her sobbing daughter. Reenie tells Nana everything, ending with the fact that Derek is Porsche's dad! Nana flies down the stairs and Derek admits to what he did. He struggles to breathe and gasps for his oxygen tank, but Nana and Reenie just watch, hoping this will be the end of the abuse…
Meanwhile, Cleo realises her essay has gone and, with everything going on with Reenie, can't expect help from her mum. Meanwhile, Pete's got the keys for the school. He convinces Cleo to write her essay there and he'll stay with her to 'help'… He's her hero when she finally finishes the essay and he moves in for a kiss. Cleo pulls away but, immediately feeling guilty, she then plays straight into his hands and kisses him. Later, Cleo and Pete lie semi-clothed on the classroom floor…
Also, when John Paul finds Porsche vandalising the boat, he puts her in a fireman's lift and takes her to The Dog. Later, John Paul tries to make it up to Porsche.
Get the latest updates, reviews and unmissable series to watch and more!
Thank you for signing up to Whattowatch. You will receive a verification email shortly.
There was a problem. Please refresh the page and try again.