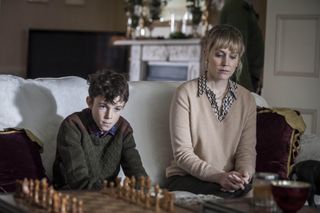 The stabbing of Dr Gardner, a psychiatrist who treated teenagers and children, initially leads Ronnie and Joe to question his violent adolescent clients. However, when they uncover evidence that points to him having an affair with one of his patients, they begin to suspect that his wife Alison (Hattie Morahan) might have had more motive than anyone else!
Although she initially denies killing her husband, Alison quickly changes her defence when the evidence stacks up against her. Her argument that she wasn't in her right mind and lost control when she stabbed him challenges the prosecution and Kate questions whether they should be trying her for murder at all.
But Jake is determined to see justice done and through some last-minute detective work, our team are finally able to uncover the truth. Guest-stars Ramon Tikaram.
Get the latest updates, reviews and unmissable series to watch and more!
Thank you for signing up to Whattowatch. You will receive a verification email shortly.
There was a problem. Please refresh the page and try again.