Seven Worlds, One Planet - BBC1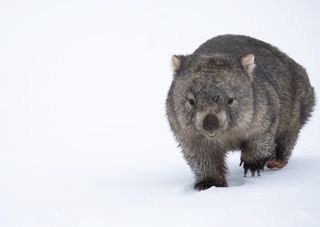 As the continent-hopping series Seven Worlds, One Planet continues, David Attenborough and crew take a look at wildlife in Australia
There has been a lot more death than you usually get at teatime in David Attenborough's most recent (and typically brilliant) series, Seven Worlds, One Planet (Sunday, 6.15pm, see our TV Guide for full details), another triumph for BBC Studios.
This week, it's the sight of a dingo chasing down a kangaroo which might linger in the memory in an episode dealing with the 'island-continent' of Australia.
MORE: David Attenborough at What's On TV
And for those who think Oz is all desert outback and beaches, the sight of a wombat galumphing through deep snow on stubby legs is a powerful reminder that there's almost every terrain, climate zone and animal you could imagine on this vast island – from flying foxes and crocodiles to six-foot-high cassowaries and huge swarms of budgerigars.
TV Times caught up with series producer Emma Napper to get the inside track on shooting in Australia.
"Australia used to be attached to Antarctica [featured in programme one]," says Emma.
"But it was cast adrift at the time of the dinosaurs, and isolated for millions of years.
"As a result, the weird and wonderful animals marooned here are like nowhere else on Earth. It's a continent of weirdos!
"There's an amazing array of animals that have been stranded there for millions of years.
"In Australia's jungles, a cassowary – one of the most dangerous birds in the world – stands 6ft tall.
"Inland, kangaroos and wombats brave snowstorms, and gum-tree forests are filled with never-before-seen predators.
"In the continent's red-desert heart, reptiles drink through their skin, and flocks of budgerigars swirl in search of water."
Of all the animals they caught on camera, which was the most difficult to film?
"Dingoes. When we started, we were told we wouldn't be able to get anything, because they were just too frightened [of humans].
"Dingoes roam across hundreds of kilometres, and the area was so vast we needed two crews to cover it.
"Then we added a drone, which dingoes were okay with, and eventually a helicopter!"
TV Times rating: *****
Get the latest updates, reviews and unmissable series to watch and more!
Thank you for signing up to Whattowatch. You will receive a verification email shortly.
There was a problem. Please refresh the page and try again.