Our Shirley Valentine Summer - ITV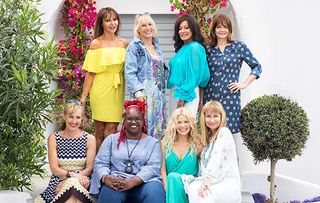 From the team behind The Real Marigold Hotel - Our Shirley Valentine Summer sees eight famous ladies head off to Greece for a summer to remember
Eight famous ladies head to Greece for a holiday of a lifetime in Our Shirley Valentine Summer.
Who wouldn't want to escape to a Greek island for the Summer?
That's what eight lucky female celebrities get to do in this new series.
All single and all in their late forties or over, the women share a villa on Naxos for three and a half weeks.
In the first episode, the group, comprising Lizzie Cundy, Ingrid Tarrant, Nancy Dell'Olio, Annabel Giles, Aggie MacKenzie, Ninia Benjamin, Melinda Messenger and Siân Lloyd (pictured above), settle into their villa and explain what they hope to get out of the show – be it discovering a new passion or maybe having a holiday romance.
TV Times met up with Ingrid and Aggie to find out why they signed up?
'I liked the age group of the women – we are in a similar stage of life and we're all singletons,' says Ingrid. 'And who can resist spending almost a month in the sunshine?'
'I knew there would be challenges and adventures and I thought, 'I'm up for this,' says Aggie. 'Also, as Ingrid said, who is going to say no to three and a half weeks on a Greek island?'
So was there anything specific the women were hoping to get out of their time in Greece?
'I have a fear of water,' admits Aggie. 'When I was about 12 or 13, I was in a canoe that capsized and I thought I was going to drown. I've not been in a swimming pool or the sea since. During the series, I had swimming lessons with the most gorgeous swimming instructor you have ever seen! Now I can go into the water and even put my head under.'
'I wanted to learn how to play the lyre and how to tap dance,' says Ingrid. 'I didn't have the opportunity to do either! But I did learn a dance.
'What I loved about being here most was the fact that we are all mature women. We approach situations in a very adult way and there's an honesty. Younger people tend to say things behind each other's backs, as they do in Big Brother and Love Island. To my knowledge, none of that went on.'
So, did Aggie do all the cleaning?
'No, I didn't,' laughs Aggie. 'I'm not really interested in cleaning. I'm more interested in cooking. It was clear early on that everybody liked to eat but nobody else wanted to cook,' she adds.
'My role was zookeeper!' declares Ingrid.
'It was amazing how much love and attention Ingrid gave to the goats and the chickens and also a stray cat,' continues Aggie. 'She even borrowed my tweezers to take the ticks off it!'
'Aggie is also a qualified yoga teacher, so she got us all doing yoga,' says Ingrid. 'It was a wonderful way to start the day on the terrace with the Aegean Sea behind.'
Made by the team who gave us The Real Marigold Hotel, this promises to be an enjoyable sun-kissed summer treat.
TV Times Rating: *****
Get the What to Watch Newsletter
The latest updates, reviews and unmissable series to watch and more!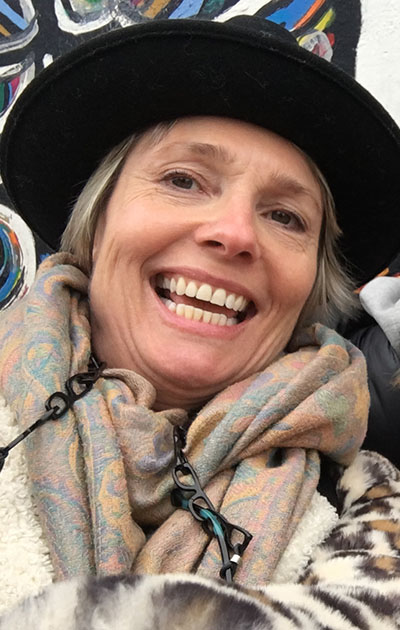 TV Times Highlights Editor
As TV Times Highlights Editor I get to hear about all the latest TV shows coming soon. Here at TVT HQ we are in the privileged position of selecting the best programmes from across all the channels and streaming platforms. Our mission is to make it easier for our readers to decide what to watch - and give them lots of choice of genres - all the latest shows, plus some nostalgic choices we call hidden gems, too. My career began with a postgraduate degree in periodical journalism (ahem, yes old school!) in 1991 and I've worked in TV media since 2000.