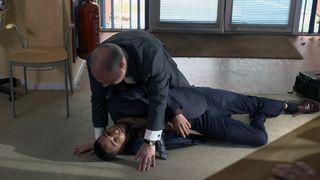 (Image credit: BBC)
Sid has been struggling to keep up with his workload and, at the end of the day, just as Valerie returns from the hospital, Sid faints. Heston steps in to treat him and The Mill family fuss around him, caring. Valerie looks on from the sidelines, feeling alone. 
Valerie's going to see the haematologist today to find out the results of her tests. She tells Mrs Tembe and that she has to go out later but, as Acting Practice Manager, Mrs Tembe is rather irritated. At the hospital, the doctor tells Valerie she has Hodgin Lymphoma, a rare form of cancer. She'll need to start chemotherapy asap.
Al comes in looking like the cat who's got the cream after spending another night with Mo. News starts to spread round The Mill and Niamh blusters that Al's love life is nothing to do with her, but in reality she feels hurt. 
Also, Ayesha treats a patient who has just won the lottery. Only one snag – he can't seem to find the ticket.
Get the latest updates, reviews and unmissable series to watch and more!
Thank you for signing up to Whattowatch. You will receive a verification email shortly.
There was a problem. Please refresh the page and try again.