Simon's new climbing wall causes chaos at Waterloo Road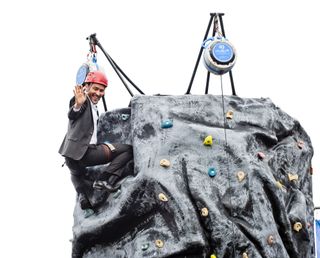 (Image credit: BBC/Shed Productions (WR) Ltd/Alan Peebles)
*FINAL*
Simon is thrilled to introduce a new climbing wall at Waterloo Road, but he soon ends up regretting the new equipment.
Tensions between Gabriella and Kacey reach boiling point, and when they challenge each other to get to the top of the wall first - without any harnesses - it ends in tears. Kacey falls from the top of the wall and severely damages her wrist, and it turns out that Gabriella deliberately stamped on her hand.
Meanwhile, Christine is at home and having to come to terms with what has happened with her drink driving charge. Son Connor makes an unexpected return to try and help his mother, and shocks everyone with the big news that he's going to move back to Scotland permanently. But the news is bittersweet for wife Imogen, who has news of her own that will mean she has to move away.
Gabriella then denies that she deliberately hurt Kacey, but Nikki is adamant that she is to blame. When Gabriella confronts Nikki, her career ends up being called into question when the unruly student pushes her too far...
Get the latest updates, reviews and unmissable series to watch and more!
Thank you for signing up to Whattowatch. You will receive a verification email shortly.
There was a problem. Please refresh the page and try again.