Sister Bernadette is struggling with TB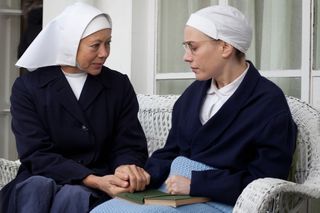 (Image credit: BBC/Company Pictures/Laurence Cendrowicz)
Sister Bernadette is still struggling to recover from TB. Everyone is worried for her welfare, and the nuns are praying for her recovery, but she's determined to get better.
Meanwhile, Cynthia comes across Anne and her overbearing husband John. After a few tests, he's diagnosed with diabetes and told to cut down on unhealthy foods. However, poor Anne is finding it difficult to stick to, as John constantly shouts at her and belittles her. However, a visit from her son and support from Cynthia sees Anne flourish and grow in confidence to stand up to her husband.
After the success of the Summer Fete, Nonnatus House have been able to buy a scooter to replace their bike. It's Fred's task to get the midwives up to scratch with how to ride one, but that proves trickier for him than he first thought!
Plus, Chummy and Peter return home from their trip to Sierra Leone. The whole of Nonnatus House are thrilled that they have returned safely, but Chummy has some big and exciting news to tell all the nuns and midwives. Chummy and Peter are expecting a baby together, and everyone is overjoyed for them!
Get the latest updates, reviews and unmissable series to watch and more!
Thank you for signing up to Whattowatch. You will receive a verification email shortly.
There was a problem. Please refresh the page and try again.