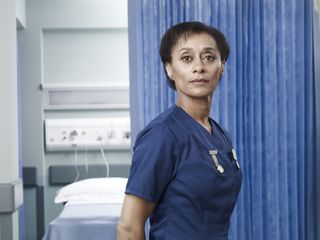 (Image credit: BBC)
Tess puts on a brave face this week as she returns to work at Holby City, determined to dump married lover Fletch and put her recent secret termination behind her.
Meanwhile, Fletch has no idea that Tess was ever pregnant and, at the first opportunity, the lovesick nurse tries to talk to Tess but fortunately for her – and unfortunately for him – it's a busy shift and they're interrupted.
Not put off by her cold shoulder, confused Fletch (Alex Walkinshaw) tracks Tess down to her office and asks her what's going on. Rather than coming clean about recent events, however, a resolute Tess tells Fletch it's over!
Meanwhile, Clinical Lead Zoe (Sunetra Sarker) is delighted to have her Nurse Manager back at work, as the Emergency Department has been chaos without Tess. Zoe also understands Tess's trauma as the two have recently become very close since Tess confided in her. Zoe has become a pillar of support for Tess, who is grieving for the loss of her unborn child.
Elsewhere, Teenagers Shaun and Moxy are keen to seek out some danger and decide to go tomb-stoning - jumping from a huge height into water below.
Before leaping off a dizzyingly high container at Holby's docks, Shaun texts his sister Danni. She begs their father Simon (Ramon Tikaram; Ferdy in This Life and EastEnders' Qadim Shah) to intervene, but when they reach the disused docks the boys are about to jump and ignore their pleas to stop.
Moxy lands safely but Shaun is knocked unconscious and tangled up in debris. It's up to Holby's paramedic Jeff and ED doctor Ash to save the lifeless teen, who is trapped and fading fast and junior doctor Lily learns a valuable life lesson in the process.
Get the latest updates, reviews and unmissable series to watch and more!
Thank you for signing up to Whattowatch. You will receive a verification email shortly.
There was a problem. Please refresh the page and try again.