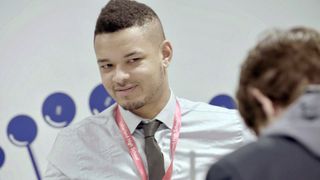 (Image credit: TwoFour)
A social media entrepreneur goes undercover at a cash-strapped school in Liverpool in this week's The Secret Teacher on C4
One of the best bits in C4's The Secret Teacher is watching entrepreneurs complaining about their school days, then stepping into modern-day classrooms and eating a big slice of humble pie.
Tonight it's 26-year-old social media marketing millionaire Steven Bartlett (pictured above) going undercover.
He was expelled from school for poor attendance, but when he meets schoolgirl Eloise at his six weeks in Litherland High school in Liverpool, he starts to understand how frustrating it is for the teachers to deal with her lack of commitment to her future.
But her casual attitude hides a difficult past.
And there's pupil Ste, who dreams of becoming a millionaire himself.
Steven wants to use his own experiences to help improve the mental health of staff and students.
How will head Mr Rogers respond to Steven's ideas?
MORE: The Secret Teacher - C4
The most emotional moment comes when Steven reveals who he really is and the massive impact he's about to make on two children's lives.
Great TV.
TV Times rating: ****
Thank you for signing up to Whattowatch. You will receive a verification email shortly.
There was a problem. Please refresh the page and try again.