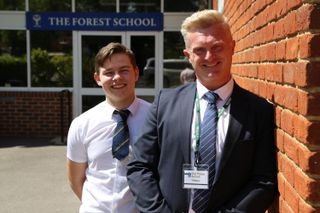 The owner of a top recruitment agency goes undercover at an all-boys school in the final episode of C4's The Secret Teacher
The last entrepreneur featured in C4's The Secret Teacher is self-made recruitment expert Darren Ryemill, who runs a successful recruitment agency that employs 250 staff across the globe and has an £80m turnover.
The son of a cleaner and a handyman, Darren worked hard to become a success, and tonight he's off to become an undercover support worker at the all-boys Forest School in Wokingham, meeting students in the school's Return to Learn programme, who were on the verge of being excluded.
Hoping he can help some of the students, it's 15-year-old Levi (pictured above with Darren) that he makes a connection with.
Like many of the other pupils featured in this series, Levi doesn't have the discipline to keep a good attendance record, and Darren wants to know why.
After an emotional heart-to-heart, there's more to Levi's behaviour than meets the eye.
Is there anything Darren can do to help him improve his future?
MORE: The Secret Teacher
We've really enjoyed this genuinely life-changing series and four episodes feels much too short.
More please, Channel 4.
TV Times rating: ****
Thank you for signing up to Whattowatch. You will receive a verification email shortly.
There was a problem. Please refresh the page and try again.