There's a stand-off at the docks!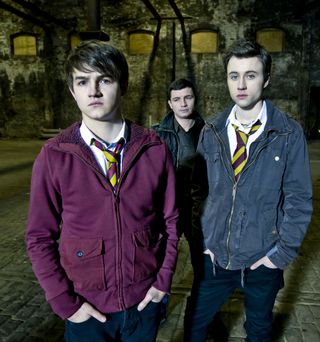 (Image credit: BBC/Shed Productions (WR) Ltd/Alan Peebles)
Connor is shocked when Steve-O's intimidation against him and Imogen steps up a gear this week. The ex-convict wants the Waterloo Road pupil to burgle a house for him, and he seemingly won't take no for an answer. Meanwhile, Kevin is also livid at Steve-O after it transpires that he forced himself onto Kevin's new girlfriend Dynasty. Determined to get revenge, Kevin creates a lifechanging plan to get his revenge. He is plotting to kill Steve-O at the docks, and tries to enlist Connor to help him with his deadly plan, but he refuses to help.
So, instead, Kevin turns to an unlikely ally in Barry Barry. When Kevin reveals how Steve-O acted towards his sister, Barry is more than willing to help out. However, their plan quickly unravels and what's left is a dramatic stand-off between Steve-O, Kevin, Connor and Barry at the docks. But will everyone escape the night with their lives?
Meanwhile, Lorraine tells Michael that she has a dramatic change in store for Waterloo Road. Michael is so appalled at what she has to say, that he takes some shocking action himself. She announces that she's going to change Waterloo Road into a fee-paying school, which leads Michael to resign from his post.
Plus, Audrey and Ndale's wedding plans are in full swing. However, it's Sonya who finds herself assisting as Audrey's wedding planner. Ndale is less than happy about his other woman being so involved with the plans. However, Audrey has an even more shocking piece of news in store for her boyfriend, as it turns out that she's asked Sonya to be her bridesmaid for their wedding.
Get the What to Watch Newsletter
The latest updates, reviews and unmissable series to watch and more!