Who's the daddy? Tina Carter thinks she's pregnant with Billy's baby!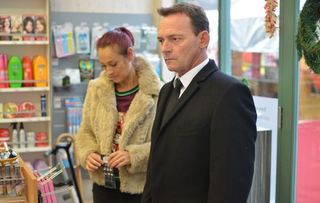 (Image credit: BBC / Kieron McCarron)
Tina Carter makes an emergency dash to the chemist to buy a test when she suspects she's pregnant and a horrified Billy walks in with Honey!
Tina is a nervous wreck as she thinks she's pregnant. Heading to the chemist to buy a pregnancy test, Tina is horrified when she bumps into Billy and Honey. But not as horrified as Billy is when he realises what she's buying! Despite the worry, Tina wonders whether this might be an opportunity for her to have a second chance at being a mum... But what will the pregnancy test say? Later, Honey finds a solemn looking Tina. Will Tina tell Honey what's going on?
Vincent has a one-to-one with Aidan and tells him he wants out of the job. Under pressure, when he returns home and Kim is insistent about trying for another baby, Vincent snaps. Realising he's hurt Kim, he apologises, and they make up. When Aiden later encourages Vincent to think again about doing the job, he caves in to Aiden. He goes back to Kim and tells her they can try for another child.
Abi is keen to build bridges with Max but Lauren prevents her, insisting she doesn't need their dad in her life. Unsure what to do, Abi talks to Stacey, wanting some advice about bringing up her baby. After Stacey reassures her, Abi realises that she doesn't need Max around.
Also, Mick and Linda talk about moving to Elaine's until they sort out somewhere to live.
Get the latest updates, reviews and unmissable series to watch and more!
Thank you for signing up to Whattowatch. You will receive a verification email shortly.
There was a problem. Please refresh the page and try again.