Transformers: Age of Extinction - C4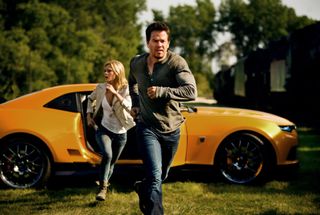 (Image credit: Andrew Cooper)
The fourth good vs bad guy robot war is another awesome action extravaganza. 3/5 stars
This time, Mark Wahlberg is the new leading man, a widowed amateur inventor who tinkers with unwanted gizmos in his Texas barn while keeping his teenage daughter (Nicola Peltz) in line.
He soon has far more pressing concerns, however, when the rusting truck he finds in an abandoned cinema turns out to be noble Autobot leader Optimus Prime, a discovery that draws Wahlberg and Peltz, plus her Irish rally driver boyfriend (Jack Reynor), into the on-going battle between good and evil alien robots.
Soon, Kelsey Grammer's shifty CIA boss and his black ops team, in league with an extraterrestrial bounty hunter, are closing in on them.
Confusingly, everyone lands up in China - an acknowledgment of China's box-office muscle rather than plot necessity - where director Michael Bay wreaks his customary metal-crunching, skyscraper-shattering, slow-mo destruction.
The story and the spectacle are both instantly forgettable, but several supporting performances stand out amid the special-effects-driven mayhem. Stanley Tucci is fabulously droll as a megalomaniac tech gazillionaire who wants to build his own line of shape-changing robots and Chinese superstar Li Bingbing supplies slinky cool as his business partner, showing that if you want an example of real clout look to China, not giant robots.
Get the latest updates, reviews and unmissable series to watch and more!
Thank you for signing up to Whattowatch. You will receive a verification email shortly.
There was a problem. Please refresh the page and try again.