Val poses as Brenda! (VIDEO)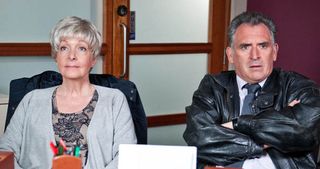 Determined to get Carly a bank loan so she can buy the shop, Val is willing to try to defraud the bank. Donning a wig, Bob squirms in the meeting as she poses as his wife Brenda. But will they get the cash? And will Brenda work out what's going on?
At the hospital, Harriet is told Ashley will soon come round but will need plenty of rest so visiting must be kept to a minimum. It's good news for Harriet – who is determined to keep Laurel well away from her man. When Ashley finally comes to, he has no recollection of the accident whatsoever. It's terrible news for Victoria, who has just forgiven Adam and popped the question to him when she's arrested!
Meanwhile, Gabby's been to Hell and back thanks to Laurel's drunken diagnosis that her dad was dead. Confessing to having a drink problem, Laurel promises her former stepdaughter she's going to get help. Later, Doug offers his support as his daughter signs up to an AA group while Marlon refuses to get his hopes up.
Leyla is worried Jai is going to explode when he picks Archie up and sees the state his son is in! But she's wrong – he reckons she's done a great job.
Get the latest updates, reviews and unmissable series to watch and more!
Thank you for signing up to Whattowatch. You will receive a verification email shortly.
There was a problem. Please refresh the page and try again.