Valerie Pitman sleeps with an old flame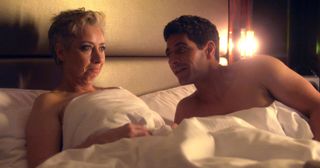 (Image credit: BBC)
Valerie Pitman gets a blast from the past when a former lover shows up
Valerie Pitman gets a visit from a very attractive visitor, it turns out he's her first love who broke her heart but now he's back in Lethbridge, via L.A. to win back Valerie's heart.
Emma buys herself a flash new car but the partners worry she's spent Howard's legacy, even though he specified in the will that he wanted her to buy a partnership in the Mill. Later, Zara asks Emma if it means she doesn't want to be a partner and Emma shrugs – she spoke to Heston, it doesn't sound like a whole lot of fun.
Karen confides in Mrs Tembe that she's sorry to see Hannah go, even though she has to admit, she was a very odd kid.
Evelyn Robinson's son Vince turns up in tears. Mrs Tembe shows him through to Sid's consulting room, but once inside, Vince changes and goes on the attack - Evelyn's death is on Sid's conscience! Startled, Mrs Tembe suggests that if Vince wishes to make a complaint, he should go through the proper channels.
Get the latest updates, reviews and unmissable series to watch and more!
Thank you for signing up to Whattowatch. You will receive a verification email shortly.
There was a problem. Please refresh the page and try again.