Waterloo Road closes its gates for ever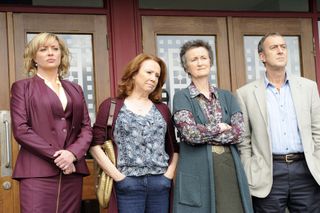 (Image credit: BBC/Headstrong Pictures (WR) Ltd/Neil Davidson)
All good things come to an end, and after ten years on the box, Waterloo Road is no more.
True to form, Waterloo Road went out with a bang, with both the police and paramedics needed at the Scottish school before the credits rolled! The action-packed finale involved violence, false imprisonment, attempted abduction and a noisy protest facilitated by stolen handcuffs.
Things kicked off when headmaster, Vaughan, was too dejected to fight for the school, following revelations his son Leo is a cyber bully. So English teacher Christine Mulgrew (EastEnders' Laurie Brett) took charge. In a bold move, she bravely handed the future of the school over the pupils, asking them to deliver Waterloo Road's 'save our school' presentation to the council.
It was quite a risk. The pupils' impassioned plea moved many, but unfortunately it wasn't enough to stop the council okaying their plans to merge Waterloo Road with Havelock High.
Yet an unlikely saviour of the school emerged from the melee. Curmudgeonly languages teacher George Windsor (Angus Deayton) had a last-ditch trick up his soiled sleeve. He tricked his money-grabbing councilor girlfriend into revealing the council's shady plans for the future of the pupils. George's recorded conversation became the ultimate bargaining tool and saved the school from demolition, and the pupils from a bleak education in prefab classrooms!
In fact, it was a happy ending all round. Deputy head Lorna's estranged husband, Rob, was exposed a sinister, controlling and violent psychopath. Bullied Bonnie managed to find a way to forgive Leo for his horrible hate campaign. And arrogant schoolboy Scott proved to Kenzie he's a changed person, finally winning her heart (and, presumably, promising never to sleep with her mother again). Even old favourite Grantly Budgen got a mention before the final curtain.
Farewell Waterloo Road, thanks for a decade of entertainment!
Get the latest updates, reviews and unmissable series to watch and more!
Thank you for signing up to Whattowatch. You will receive a verification email shortly.
There was a problem. Please refresh the page and try again.