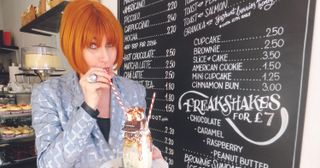 (Image credit: Sundog Pictures)
Mary Portas gets another taste of Britain's latest shopping trends
Britain has a £6 billion-a-week shopping habit but what exactly are we spending our hard-earned cash on? Mary Portas is back rummaging through our shopping bags this week and finds fancy dog food, high-fashion trainers and barbecues among 2016's must-have items. Mary also meets retailers who claim that smaller living spaces have made us ditch the traditional three-piece suite, speaks to trendsetters about our love of slogan T-shirts and finds out why the Kardashian-Jenner clan have caused a world shortage of pom-pom charms. Oh, and in case you didn't know, the man cave is so last year – apparently, it's all about the 'she shed' now. Sorry about that, fellas!
Thank you for signing up to Whattowatch. You will receive a verification email shortly.
There was a problem. Please refresh the page and try again.