Will David break the law?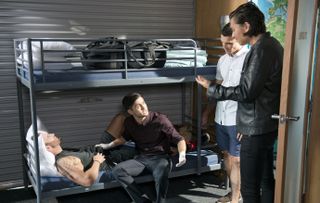 Leo needs David's help - but will David risk his job and his freedom to help his brother?
Mannix leaves Leo with no choice but to enlist David to help with his knife wound. Realising a crime may have occurred, David is a little unsure whether he should intervene, but ultimately provides medical assistance. Will Mannix survive his injuries and will Leo finally tell David why is protecting Mannix?
It's the day of Paige's birthday party. On the way there, Amy chats to Jack and discovers he still has feelings for Paige. She encourages him to tell Amy how he feels, unaware that Mark is also preparing to lay out his heart to Paige. When both men tell Paige that they want to be with her, how will she react and who will she choose?
Also, Terese has thrown herself into planning Paige's party, but Paul can sense something is wrong. As he shows Terese his caring side, will this lead to them being more than friends?
Get the latest updates, reviews and unmissable series to watch and more!
Thank you for signing up to Whattowatch. You will receive a verification email shortly.
There was a problem. Please refresh the page and try again.