Will David break the law?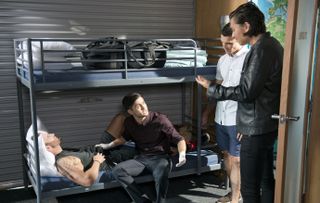 Leo needs David's help - but will David risk his job and his freedom to help his brother?
Mannix leaves Leo with no choice but to enlist David to help with his knife wound. Realising a crime may have occurred, David is a little unsure whether he should intervene, but ultimately provides medical assistance. Will Mannix survive his injuries and will Leo finally tell David why is protecting Mannix?
It's the day of Paige's birthday party. On the way there, Amy chats to Jack and discovers he still has feelings for Paige. She encourages him to tell Amy how he feels, unaware that Mark is also preparing to lay out his heart to Paige. When both men tell Paige that they want to be with her, how will she react and who will she choose?
Also, Terese has thrown herself into planning Paige's party, but Paul can sense something is wrong. As he shows Terese his caring side, will this lead to them being more than friends?
Get the What to Watch Newsletter
The latest updates, reviews and unmissable series to watch and more!
Tobi Oredein is an award-winning women's lifestyle journalist, media entrepreneur and international public speaker based in London, who focuses on race, feminism, beauty politics & popular culture. Tobi has been commissioned by Buzzfeed, British Glamour, Grazia, Elle UK, Fader, The Debrief, The Independent, The Pool, Stylist, Vice and others. She has also interviewed public figures such as Ryan Coogler, Ava Duvernay and Sir Trevor McDonald.