Will Jez leave Casualty after he's victim of an arson attack?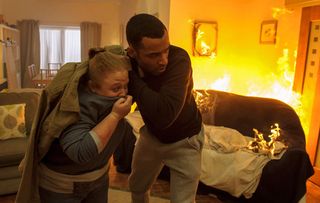 (Image credit: BBC/Alistair Heap)
Casualty paramedic Jez has a decision to make – stay in Holby alone or leave with lover Mickey…
Paramedic Jez faces his worst fears this week when a burning bottle is lobbed through his front window, putting nurse Robyn Miller and her baby, Charlotte, in serious danger. Troubled Jez is secretly haunted by the death of a baby girl in a house fire and has been pretending he's too ill to work.
As soon as he hears the bottle crash through his living room window, however, Jez instinctively races downstairs to rescue his friends. But, when it comes to the crucial moment to get Charlotte to safety, normally fearless Jez (Lloyd Everitt) freezes and it's up to hospital porter Max to save her from the flames!
Later at the hospital when the police ask questions about who may have carried out the evil arson attack, Jez immediately suspects his boyfriend Mickey's racist, homophobic mother, Denise Ellisson.
Mickey is devastated when he confronts his Denise (Lucy Benjamin) and realises she's behind the attack! Sick of living in the shadow of his disturbed family, Mickey makes a life-changing decision – he's leaving Holby to join his friends travelling in South East Asia. Mickey (Mitch Hewer) begs soul mate Jez to come with him, but Jez is reluctant to leave…
With their home gutted and Mickey on his way to the airport, Jez decides to take paramedic pal Iain up on the offer of his spare room. After everything Mickey and Jez have been through is Jez willing to lose the love of his life and stay in Holby? Or will he make a last-minute dash to the airport and follow Mickey on a new adventure?
Also this week, Dylan is coming unstuck at the French refugee campsite in the final part of this two-part special. Having rashly agreed to smuggle orphan Sanosi to the UK last week, Dylan (Will Beck) has second thoughts as he considers the consequences of getting caught. He wrestles with his conscience before making a snap decision… Will it haunt him?
Elsewhere, Alicia vows to give up men and booze for a year. Robyn's distraught following the arson attack. Connie is keeping a close eye on Ethan. And Lily asks Ethan to attend a family wedding with her… who wants to be the one to tell Iain?
Get the latest updates, reviews and unmissable series to watch and more!
Thank you for signing up to Whattowatch. You will receive a verification email shortly.
There was a problem. Please refresh the page and try again.