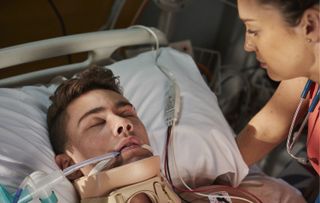 As doctors take Mason off the ventilator, will he be back to his old self...
Tori's on edge as doctors prepare to take Mason off the ventilator. Later, Tori sees Kat and Ash and the couple give Tori a shoulder to cry on as she worries about the damage that may have been caused to Mason's spinal cord. Will Mason be his old self after being taken off the ventilator? Later, Kat finds out Zannis is responsible for the accident. Kat heads off to tell Tori, who blames Kat. To make matters worse, Zannis is on the loose and is looking for Brody and Kat for revenge. Will Zannis get what he wants and will Ash's desire to help Tori make matters worse?
Ash and Kat finally seem back on track as they enjoy a family day at the beach with Luc. The day comes to an end, however, when Kat has to go to the station to look at the DNA results from Robbo and then visit him in the hospital. It seems that Robbo hasn't had any run-ins with the law, leaving Kat relieved. Eager to help Robbo, Kat arranges for him to stay in the caravan park - but will Alf agree?
Also, John and Marilyn have been at loggerheads since he announced his desire to have a baby. Later, John tells Alf about the tension between himself and Marilyn and when Alf hears that John wants to have a baby, he questions whether the couple are too old to be brand-new parents again. John isn't discouraged by Alf's words and is determined to talk Marilyn round. Can he convince her that a baby is the right step for them?
Tobi Oredein is an award-winning women's lifestyle journalist, media entrepreneur and international public speaker based in London, who focuses on race, feminism, beauty politics & popular culture. Tobi has been commissioned by Buzzfeed, British Glamour, Grazia, Elle UK, Fader, The Debrief, The Independent, The Pool, Stylist, Vice and others. She has also interviewed public figures such as Ryan Coogler, Ava Duvernay and Sir Trevor McDonald.
Get the latest updates, reviews and unmissable series to watch and more!
Thank you for signing up to Whattowatch. You will receive a verification email shortly.
There was a problem. Please refresh the page and try again.