Will Ollie propose to Zosia?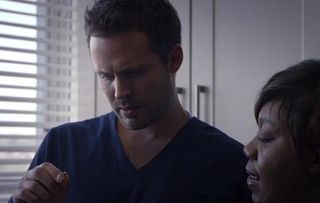 The medic is given food for thought when he finds an engagement ring among Zosia's belongings…
As lovebirds Ollie and Zosia plan to de-clutter their lives, this week, Ollie uncovers a lot more than he bargained for. Each armed with a box of 'tat', doctors Ollie and Zosia tell colleague Mo that they're each allowed to go through the other's stuff and decide what's worthy of keeping, and what's going in the bin.
Ollie's curious, though, when Zosia hints there's something in her box she wants him to find. So, when he discovers an old engagement ring, he panics, thinking it's her way of prompting him to propose!
Later, however, Ollie finds Zosia frantically rummaging through her box. She's realised it contains not worthless 'tat' but valuables and she can't find her late mother's engagement ring! At that moment, Ollie produces the ring from his pocket – is he going to propose?
Meanwhile, a grief-stricken Serena returns to work looking for answers for Elinor's death. When she suspects Jasmine could have done more to help Elinor, Serena's focus soon turns to retribution…
Also, Dominic's devastated when Isaac returns from Hawaii and reveals he cheated on him. When Isaac cattily reminds Dom of his old life, an insecure Dom thinks he's still just the ugly duckling he's always been. Can they get back on track?
Get the latest updates, reviews and unmissable series to watch and more!
Thank you for signing up to Whattowatch. You will receive a verification email shortly.
There was a problem. Please refresh the page and try again.