Will Peggy's funeral end in drama for the Mitchells?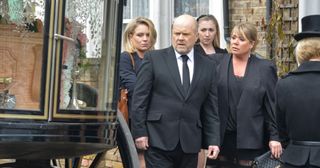 (Image credit: BBC/Jack Barnes)
Emotions are running high for Phil and the Mitchell family on the day of Peggy's funeral.
Sharon is concerned about Phil on the day of Peggy's funeral, as it's obvious he's struggling to write the eulogy. As Sharon gets ready for the service, she's interrupted by a surprise visit from Margaret, who wants to tell Sharon that Gavin has been acting strangely.
It's the day of Peggy's funeral and the Mitchells struggle to hold it together ahead of the service. Sharon is particularly worried about Phil, who is finding it far too hard to write the eulogy for his mum. When Margaret makes a surprise appearance to tell Sharon that Gavin has been acting strangely, Sharon sends her on her way, insisting her priorities are with the Mitchells that day.
The family head to the church for the funeral service but it's not long before there's drama when Sal drops a bombshell on Sharon. When it's tine to deliver the eulogy, Phil can't do it, walking out. As Peggy is buried, Grant arrives to pay his final respects. Finding Phil at home Sharon reveals that Peggy fitted Eric up for the Post Office raid to protect her kids by getting their violent dad sent to jail. Pulling himself together, Phil heads to the wake to make a heartfelt speech then he heads to Peggy's grave to say a loving farewell.
Jack is finding it hard having Richard in the Square without ever having had contact with him. Knowing that it's time he was introduced to his son, Jack arranges with Sam to spend time with him. Meanwhile, Buster's concerned that Kathy is avoiding him but they later share a kiss at the Beales'.
Get the latest updates, reviews and unmissable series to watch and more!
Thank you for signing up to Whattowatch. You will receive a verification email shortly.
There was a problem. Please refresh the page and try again.