Zara and Daniel continue to spice things up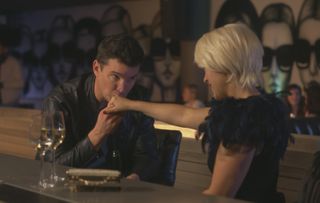 (Image credit: BBC)
But will Zara and Daniel's games end well?
Daniel's like a Cheshire cat as he tells Al that he has finally got the picture of him and Zara taken down from the swingers site. Next, Daniel tells Zara the good news and she's ecstatic. In celebration, she suggests they go out for the night and tells Daniel she'll be dressed up as someone else and calling herself a different name…
Later that evening, Daniel arrives at the location where he arranged to meet Zara. Before entering the bar, he sees Bill who tries to persuade Daniel to be his wingman for the night. However, trouble arises when Zara walks into the bar and Bill is immediately attracted to her.
As Zara sits by the bar, Bill walks over and begins to chat her up. Will Zara and Daniel's attempts to spice up their relationship end in tears? Finally, by the end of the night, Zara's pushed into using her medical skills to save a young boy's life, but her good intentions could have some serious consequences…
Get the What to Watch Newsletter
The latest updates, reviews and unmissable series to watch and more!
Tobi Oredein is an award-winning women's lifestyle journalist, media entrepreneur and international public speaker based in London, who focuses on race, feminism, beauty politics & popular culture. Tobi has been commissioned by Buzzfeed, British Glamour, Grazia, Elle UK, Fader, The Debrief, The Independent, The Pool, Stylist, Vice and others. She has also interviewed public figures such as Ryan Coogler, Ava Duvernay and Sir Trevor McDonald.