Beyond Paradise cast: who's who in the Death In Paradise spinoff
Beyond Paradise's cast includes Kris Marshall, Sally Bretton and Derry Girls' Dylan Llewellyn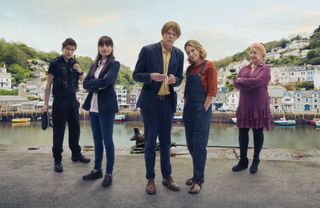 (Image credit: BBC)
Beyond Paradise expands the Death In Paradise universe as it follows former Saint Marie detective DI Humphrey Goodman and his fiancée Martha Lloyd as they embark on a new life in Martha's Devon hometown of Shipton Abbott.
Created by the same team behind Death In Paradise and written by Tony Jordan (EastEnders, Hustle, Babs), the six-part series features a star-studded cast of recogisable faces and much-loved stars of the screen — so here's our guide to all of the show's main characters.
Who's who in the Beyond Paradise cast
Kris Marshall stars as DI Humphrey Goodman
Kris Marshall reprises his role as DI Humphrey Goodman from series three to six of Death In Paradise. A man whose razor-sharp intellect is often obscured by his physical clumsiness, Humphrey is shrewd, eccentric, compassionate, unpredictable, and a devoted fiancé to Martha.
"Wherever he goes, Humphrey leaves a sort of mini tidal wave of madness behind him, and he's causing that tidal wave to ripple through the village of Shipton Abbott!" says Kris. "He's a comfortable, lovely old friend. It's delightful to play him again!"
Where else have you seen Kris Marshall?
Kris's big break came in the role of Nick Harper in BBC One sitcom My Family. His TV roles also include Paul Fenner in ITV drama Lightfields, Cian Fitzgerald in We Hunt Together and Tom Parker in Jane Austen-inspired drama Sanditon. On the big screen, he's appeared in Love Actually, Death At A Funeral, Easy Virtue and A Few Best Men.
Kris is married to Hannah Dodkin, and the couple have two children.
Sally Bretton stars as Martha Lloyd
Having previously played Martha in five episodes of Death In Paradise from 2016 to 2017, Sally Bretton reprises the role in Beyond Paradise. Funny, kind-hearted, down-to-earth Martha is the calming influence in Humphrey's life.
Martha grew up idolizing her hard-working father, and has always wanted to run her own business. That's one of the reasons Martha and Humphrey moved to Shipton Abbott, so she can realize her dream of opening her own café serving locally-sourced ingredients. She's also very close to her mother Anne, particularly since the death of her father a few years back.
"It was wonderful to come back to this character after five years," says Sally. "I really like Martha, she's very warm and driven, but she overthinks things, so she's interesting to play."
Where else have you seen Sally Bretton?
Sally is best known for her role as the long-suffering Lucy in BBC One sitcom Not Going Out, which she has starred in since 2007. Her other screen credits include Kim Alabaster in cult comedy Green Wing, Cat Durnford in Absolute Power, Mary Hathaway in Blessed, Donna in The Office, Amanda Barton in Agatha Raisin and the films An Ideal Husband and Outlaw.
Sally also appeared in a 2009 episode of My Family — but not alongside Kris, who had already left the show by that point!
Barbara Flynn stars as Anne Lloyd
Anne is Martha's mother, and is a new character created for Beyond Paradise. She's a woman who knows her own mind, and can occasionally be critical of her daughter, but always in an affectionate way. She was devastated by her husband's death, and has filled that void in her life by getting more involved in the local community.
While she's happy that Martha has found love with Humphrey, Anne finds him quite strange — and has had to develop lightning-quick reflexes to rescue her porcelain figures every time he knocks one off its perch!
"Anne is quite a jolly person — she's not overly accommodating," says Barbara. "She has a relationship with her daughter that is very interesting, special and real. It's beautifully drawn by the writing."
Where else have you seen Barbara Flynn?
Star of stage and screen Barbara has been in the business for over five decades, so you're likely to have seen her on your screens before! Her breakout role on TV was as Freda Ashton MacKenzie in 1970s ITV drama A Family At War.
You might also recognise her as the milk woman from Open All Hours, Rose Marie from A Very Peculiar Practice, Madame Maigret from the 1990s ITV adaptation of Georges Simenon's Maigret opposite Michael Gambon, Judith Fitzgerald from Cracker, Mary, Queen of Scots opposte Helen Mirren in TV miniseries Elizabeth I, Mrs Jamieson in Cranford, Aunt Hermione in The Durrells and Councillor Bone in Kate & Koji.
Barbara has also appeared in Death In Paradise, but not as Anne! She played Patti Grenson in the series 9 episode 'A Murder In Portrait'.
You might also recognise Barbara's voice, as she's narrated many TV series including Raymond Blanc's reality show The Restaurant, Big Fat Gypsy Weddings and Channel 5 documentary Countdown To Murder.
Zahra Ahmadi stars as DS Esther Williams
Esther's life hasn't turned out like she expected — after getting pregnant at 17, she thought that her life was over, but she took a gamble on applying for the police, and soon proved to have an aptitude for the work.
A Shipton Abbott local herself, she's driven by a desire to make the town she grew up in a better place — and anything she doesn't know about the area probably isn't worth knowing. She finds Humphrey a little baffling at first, but quickly comes to appreciate how his flashes of inspiration complement her thoroughness and professionalism.
"Esther found the police force later in life — it took her a few jobs to get to this point, but she loves it," says Zahra. "It's her passion, she's really good at what she does, and she's finally found her place now."
Where else have you seen Zahra Ahmadi?
You may remember Zahra as the original Shabham Masood in EastEnders from 2007-2008, before Rakhee Thakrar took over the role in 2014. After leaving Walford, Zahra appeared in the film Tamara Drewe with Gemma Arterton, played Missy in the Doctor Who episode 'Nightmare In Silver', Gita in the Black Mirror episode 'White Christmas', Clare Itani in Berlin Station, Sinem in BBC Two sitcom Count Arthur Strong, and DS Mari-Luz Garcia in ITV drama Innocent.
You may also have spotted Zahra in Death In Paradise before! She played Daisy Anderson in the series seven episode "Murder On The Day Of The Dead".
Dylan Llewellyn plays PC Kelby Hartford
PC Kelby Hartford doesn't lack confidence — though on first impression, he might strike you as a little bit slow on the uptake. That's not entirely fair though: he's definitely a little bit green, thanks to a somewhat sheltered upbringing with a mum who tended to his every need, but he's ambitious, hard-working and determined, and definitely capable of surprising you.
He can be a bit of an action boy when the mood takes him, as you'll see in episode one, and he views his job as a police officer as being the closest possible thing to a real-life superhero.
"He's a good lad with drive who wants to get the job done," says Dylan. "He's got golden retriever energy — Kelby is a people-pleaser! He's an endearing, kind-hearted 'Jack the lad', which I think makes him a very good police officer."
Where else have you seen Dylan Llewellyn?
Dylan's big break in TV came when he was cast in Hollyoaks as Martin 'Jono' Johnson in 2011, but the role that made him a household name was playing "the wee English fella" James Maguire in Channel 4 sitcom Derry Girls.
You may also have spotted Dylan as Seb Channing in Holby City in 2013, or as Stewart Irmsby in a 2020 episode of Call The Midwife. In 2022, he played the lead role of Jack in Channel 4 comedy Big Boys, and played the role of Wally Nightingale in the FX/Disney+ Sex Pistols biopic Pistol.
Felicity Montagu stars as Margo Martins
Margo is Shipton Abbott police station's office support. She likes to think the place would fall apart without her — and there's a good chance it actually would. She's got a very dry sense of humour and doesn't suffer fools, but beneath her gruff exterior, she's very fond of her colleagues and would do anything for them.
She also has quite the colourful life away from work — she's buried three husbands, two dogs, and eleven cats, and she's got a bunch of grown-up children she doesn't see very often.
"Margo is a complete free spirit," says Felicity. "When I first read the script, she made me laugh — she is beautifully written, and I immediately thought I could really play her with relish!"
Where else have you seen Felicity Montagu?
Felicity is best known for her role as Lynn Benfield, the downtrodden personal assistant to Norwich's favourite broadcaster Alan Partridge (Steve Coogan), who she has played on and off since 1997.
You might also recognise her as Bridget's boss Perpetua in the film Bridget Jones's Diary, as Sue Forks in cult sitcom Nighty Night, as Doc Martin's Caroline Bosman, Godiva 'Diva' Plaistow in Mapp & Lucia, Miss Adolf in Hank Zipzer, Winnie Miles in The Tunnel, Eleanor in Sally4Ever, Cousin Prue in The Durrells, and Gloria in Hullraisers.
Felicity's other big screen roles include Valerie in Censor, Mrs Garner in Resistance and Elizabeth Mainwaring in Dad's Army.
Get the What to Watch Newsletter
The latest updates, reviews and unmissable series to watch and more!
Staff Writer for TV & Satellite Week, TV Times, What's On TV and whattowatch.com
Steven Perkins is a Staff Writer for TV & Satellite Week, TV Times, What's On TV and whattowatch.com (opens in new tab), who has been writing about TV professionally since 2008. He was previously the TV Editor for Inside Soap before taking up his current role in 2020. He loves everything from gritty dramas to docusoaps about airports and thinks about the Eurovision Song Contest all year round.