Meet the Outer Banks season 3 cast: who's who in the teen adventure series
The Pogues and Kooks are back at it again, this time with a new villain.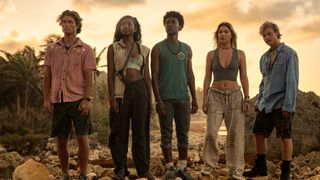 (Image credit: Jackson Lee Davis/Netflix)
Now streaming on Netflix, Outer Banks season 3 has 10 new episodes now available.
The series picks up after the Pogues lose the gold and ditch the Outer Banks only to end up on a desert island they name Poguelandia. Of course, nothing good seems to ever last and things quickly go south for John B, Sarah, Kiara, Pope, JJ and Cleo when they find themselves once again in a race for the treasure.
With Ward and Rafe seeking revenge and a ruthless Caribbean Don who will stop at nothing to find the city of gold, they're fighting for their lives once again. No matter what, at the end of the day, it's the Pogues against the world — and the only way out is together.
So now is the perfect time to catch up with the Outer Banks cast, including the fan-favorite characters and new additions.
Chase Stokes as John B.
After being framed for a murder he did not commit, John B is finally cleared of all charges and happy to see the demise of the man who ruined his life. With Sarah in danger, he risks everything to sneak onto the Coastal Venture and saves her. While they both might have lost their fathers, they have each other and it's time to go Full Pogue together.
Chase Stokes can be recognized for Tell Me Your Secrets, Dr. Bird's Advice for Sad Poets and Stranger Things.
Madelyn Cline as Sarah Cameron
Sarah is pushed to her limit by her family, not only being drugged and forced onto the boat but nearly murdered by her father, even as she begs him to stop. There is a lot of trauma she will have to deal with from both Ward and her brother, Rafe. But with John B by her side, she will never be alone and the Pogues will serve as her new family.
Madelyn Cline most recently starred in Glass Onion: A Knives Out Mystery. Past roles include The Giant, Stranger Things, Boy Erased and Vice Principals.
Madison Bailey as Kiara Carrera
Despite her parents' threats of sending her to a wilderness retreat for troubled girls, Kiara sneaks out to help Pope and decides to join the Pogues in their final battle of season 2. But when JJ nearly dies saving her life, we see something has shifted for the character. The the thought of her best friend not waking up after they were safe on the boat is clearly too much for her. Even after he does, its clear Kiara has some new feelings to address.
Madison Bailey's additional work includes Black Lightning, Discarded Things and Council of Dads.
Jonathan Daviss as Pope Heyward
In season 2, Pope discovers he is a descendant of Denmark Tanny and that the gold cross belongs to his family. Unfortunately, after a rough season for the character, he loses the cross to the Camerons, specifically Rafe, who lifted it out of the water after he dropped it overboard. But it's safe to say that Pope isn't one to give up.
Jonathan Daviss was just in Do Revenge and can be seen in Shattered Memories, Age of Summer, as well as Edge of the World.
Rudy Pankow as JJ Maybank
Toward the end of season 2, JJ helped his dad get off the island, leaving him with no parents left. He, of course, does not linger on that fact, throwing himself into helping his friends, even if it means nearly dying to save one of them. Thankfully, after a bad hit to the head that knocks him overboard, he wakes up and is more than happy with their new living arrangements on Poguelandia. What else could he ever need?
Rudy Pankow was in Uncharted and Space Waves.
Austin North as Topper Thornton
Last we saw of Topper, he had been there for Sarah after her father blew up their family boat and faked his death. The character is still very clearly in love with his ex-girlfriend, but it seems that he'll always come in second where John B is concerned.
Austin North is known for I Didn't Do It and Kickin' It
Drew Starkey as Rafe Cameron
Rafe Cameron is clearly unhinged at the end of season 2. He has proven he'll do anything to make his father proud and earn his affection, even though Ward's focus is always on Sarah. Still, he has secured the gold cross and promised his father everything will be okay, even if it means having to get his sister back. A more human moment for the character is shown as he allows the Pogues to escape, choosing not to pull the trigger.
Drew Starkey starred in 2022's Hellraiser. You can also see the actor in The Terminal List and Love, Simon.
Carlacia Grant as Cleo
We were introduced to Cleo in season 2 and fans were thrilled the Pogues found her working on the Coastal Venture. She and Pope work together to deal with the captain and get the cross. Things don't go as planned, but she leaves with Pope, JJ, Kiara, Sarah and John B, which means this is a fresh start for her and an opportunity for us to learn more about the character in season 3.
Carlacia Grant has appeared on Greenleaf, Game of Silence, The Resident, as well as Roots.
Charles Esten as Ward Cameron
After faking his death, we learn that Ward not only survived the explosion and escaped the Outer Banks but wants to bring his family with him. Naturally, the one Cameron against him is Sarah. However, realizing he has truly lost his daughter to the Pogues, he begins to choke her before being stopped by John B. After a fight between the two, we soon see him being taken care of by a medic, who declares that he is stable and resting. Despite the fact that he has the gold and the cross, he can't handle not having Sarah.
Charles Esten is recognized for his roles in Nashville and The Crew.
Andy McQueen as Carlos Singh
Move over Ward Cameron, Carlos Singh is taking over as this season's big villain. While we don't know too much about him yet considering he is a new character, we know that he is after treasure and will do anything to get it, making him perfect for the show.
Andy McQueen is known for his work on Station Eleven and Nurses.
Charles Halford as Big John
After being presumed dead, the season 2 finale revealed that Big John has actually been alive this whole time. Based on the season 3 trailer, we see he will soon reunite with his son, who followed in his footsteps to finish the hunt for the gold. This will be the first season we really get to meet the character and see the talked-about father and son-dynamic.
Charles Halford's notable credits include True Detective, Constantine and Logan Lucky.
Outer Banks season 3 is now streaming exclusively on Netflix.
Get the What to Watch Newsletter
The latest updates, reviews and unmissable series to watch and more!
Sophia Soto has a passion for all things entertainment. She is a member of The Hollywood Critics Association and currently writes for The Nerds of Color. You can also see her work on What To Watch, Remezcla, Looper, Den of Geek, Young Hollywood and more. Some of her favorite shows include Grey's Anatomy, The Goldbergs, Riverdale and Roswell, New Mexico. She is a complete Marvel nerd as well!