Meet the The Bachelor season 27 cast: who are the contestants on the reality series
Meet the 30 women vying for Zach Shallcross' heart.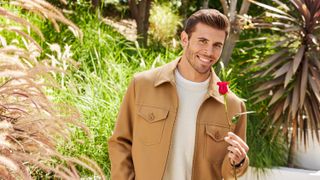 (Image credit: ABC/Nino Muñoz)
Get the wine and cheese ready, it's time for another thrilling season of The Bachelor. It's season 27 and Zach Shallcross is the new leading man. He's known for being the guy who walked away from Rachel Recchia in The Bachelorette season 19 after realizing that she wasn't the one for him.
Now he's back and ready to start his journey of the heart, and he'll have 30 women vying for his affection.
Yes, you read that right: 30 women.
Among the 30 women are quite a few nurses, two Olivias, a Victoria and a Viktoria, animal enthusiasts, a few native Texans, but one thing is for sure: they all hope to get the final rose from Zach (for reference, Zach is 26).
Let's meet the 30 women from The Bachelor season 27 with their official bios from ABC.
Aly
Hometown: Atlanta
Job: Healthcare strategist
Age: 26
"With a beautiful smile and a personality to match, Aly is a Southern sweetheart ready to find love! Aly is a hopeless romantic and has even ended serious relationships because her exes weren't ready for the real deal. She's the full package and is as passionate about her work in healthcare as she is about Disneyland. Aly hopes Zach can match her energy and is excited to meet a man who's ready for marriage. Nothing makes her happier than her goldendoodle named Texas, so hopefully, Zach can handle a little puppy love because these two are a package deal!"
Fun Facts:
A proud collector of porcelain dolls
Went to the same high school as Beyonce
Loves broccolini but hates broccoli
Anastasia
Hometown: San Diego
Job: Content marketing manager
Age: 30
"Anastasia is really someone special. She comes from a big, loving Greek family and is ready to find love of her own! When it comes to finding a husband, Anastasia is looking for a mature man who has his life together and knows what he wants. In her free time, Anastasia enjoys watching the Harry Potter movies, visiting her family in Greece and vibing out to Rufus Du Sol's music. Anastasia is done wasting time when it comes to dating and is ready to jump into love with both feet. Will Zach be the man to take the plunge with her? Only time will tell."
Fun Facts:
Loves animals but is intimidated by monkeys
Has always felt a strong connection to Cleopatra
Fears the day low-rise skinny jeans become fashionable again
Ariel
Hometown: New York City
Job: Marketing executive
Age: 28
"Ariel is a thrill-seeker, and here at The Bachelor, thrill she will find. Ariel is adventurous, sophisticated, unapologetically herself and is looking for a man who can match her energy! Ariel comes from a big, loving Ukrainian family and is looking to find love like her parents have. She is a woman of the world and has traveled everywhere, from Europe to Asia to South America and more! When she's not jet-setting, she loves exploring her hometown of New York City by going on long walks and listening to SZA. Ariel is truly hoping that Zach is her perfect match!"
Fun Facts:
Loves to read Architectural Digest
Doesn't do tarantulas under any circumstance
Dancing to Abba makes Ariel smile
Bailey
Hometown: Nashville
Job: Executive recruiter
Age: 27
"Bailey is the perfect combination of loving and loyal. She is truly ready to settle down and meet her dream man! Bailey isn't on dating apps because she says she's not looking to date around; she is ready to find the one and thinks The Bachelor is the perfect place to do just that. Bailey is passionate about health and wellness and hopes to one day own her own business in the wellness world. She loves traveling and going on an adventure and hopes Zach is also looking for an adventure buddy. Bailey is extremely down to earth, gets along with everyone, and hopes her future husband will bring a similar energy to their relationship. We can't wait to see if Bailey and Zach hit it off!"
Fun Facts:
Would love to be a professional skydiver
Likes her margaritas spicy
Named her dog Charlie after Charlie Brown
Becca
Hometown: Burbank, Calif.
Job: Nursing student
Age: 25
"Becca is incredible. She is a nursing student who has always put others before herself and dedicates her life to helping people. She comes from a close-knit Mexican American family and was raised by her mom, who she says is the person she loves most in this world. When it comes to what she wants in a partner, Becca is looking for someone she has a natural chemistry with who isn't afraid to be goofy sometimes. She is hoping to meet a man who is as loyal, honest and supportive as she is. Becca is here to find her perfect match and hopefully return home with Zach by her side."
Fun Facts:
Being outdoors relaxes her
A sucker for forbidden romance novels
Wore a lot of beanies in high school and gave off a skater-girl vibe
Brianna
Hometown: Jersey City, N.J.
Job: Entrepreneur
Age: 24
"Brianna is a boss woman looking to add some love to her life! She is smart, entrepreneurial and creative, which lead to her owning a successful beauty company at just 24 years old. Brianna is giving She-E-O vibes! Now that her career is in such a good spot, she seems to have everything in place except for a man. Brianna is a woman of the world and even lived in Paris for a few years growing up. So, she is looking for a ride-or-die partner with whom she can travel to new places. Brianna has high expectations, but she's truly hopeful that Zach could be the man for her!"
Fun Facts:
Hopes to go cage diving with sharks one day
Created her own language as a child
Does not do "Netflix and chill"
Brooklyn
Hometown: Stillwater, Okla.
Job: Rodeo racer
Age: 25
"Brooklyn is a rodeo country girl ready to saddle up for the love story of a lifetime! At just 13 years old, Brooklyn discovered her passion for horse barrel racing and went on to study animal science. One day, she dreams of being a professional rodeo cowgirl and horse trainer. But now, Brooklyn works as a lab designer for an oral surgery practice where she custom designs teeth for life-changing dental procedures. Zach, get ready to say cheese and show off those pearly whites! Brooklyn hasn't had the easiest path when it comes to her relationship history, so she's ready for a fresh start with the Bachelor. Will Zach be the perfect cowboy for this fun-loving cowgirl? Only time will tell.
Fun Facts:
Would love to be able to teleport
Is a two-stepping pro
Loves to start her day with a delicious breakfast burrito
Cara
Hometown: Pittsburgh
Job: Corporate recruiter
Age: 27
"Cara is as ambitious and driven as she is beautiful. She really has her life figured out, from her career to her social life, but there's one major piece missing ― a husband. Cara has tried dating apps and being set up, but she is way more excited about this new, unique opportunity to find love with Zach. When she isn't hustling in the office, she's jamming out to Justin Bieber while walking around New York City. Cara is hoping to meet an ambitious and intelligent man and hopes she feels sparks flying with Zach!"
Fun Facts:
• Nothing upsets Cara more than seeing garbage on the sidewalk.
• Cara loves Christmas music.
• Cara is not a good cook, but she is great at "assembling meals."
Nothing upsets Cara more than seeing garbage on the sidewalk
Loves Christmas music
Is not a good cook, but she is great at "assembling meals."
Cat
Hometown: New York City
Job: Dancer
Age: 26
"When it comes to living life to the fullest, Cat likes to just go for it! Cat is a free spirit who isn't afraid to be silly and always tries to keep a positive attitude. Cat loves living in New York City, is passionate about dancing and enjoys a picnic in the park. Cheese and crackers in Central Park with Cat? Sounds like a dreamy one-on-one date to us! Cat is ready to find someone who accepts her for who she is and will make her a priority. Cat believes true love is within reach, and we hope she's right!
Fun Facts:
LOVES hot dogs
Doesn't do dinner dates
Was a sailing instructor in high school. Dreams of sailing around the world
Charity
Hometown: Columbus, Ga.
Job: Child and family therapist
Age: 26
"It's easy to see what makes Charity such a great catch! With a smile that lights up the room, a great career and a sweet personality to match, Charity is the total package! The Georgia beauty takes her name as a call to love and care for people and has built her life on that purpose. Charity is a mental health therapist and is extremely passionate about helping people live their best lives. Now, she is ready to receive the love she gives to so many others! Charity hopes her future husband is honest, loyal and shares similar morals. She says she is really excited to meet Zach and thinks the two of them could be a perfect match on paper. Time will tell if they're also a perfect match in person!"
Fun Facts:
All-time favorite movie is The Notebook
Wants to move to Disneyworld one day
Throws a mean ax
Christina
Hometown: Nashville
Job: Content creator
Age: 26
"Christina is ready for her perfect, fairytale love story! She is a mom to her amazing 5-year-old daughter, Blakely, who she lives to make happy. Since getting divorced, Christina has been searching for her perfect man but must be selective since she and her daughter are in this together. Christina is looking for a partner she can trust unconditionally and is open-minded to whatever life throws their way. Will Christina get the fairytale ending that she has always wanted with Zach? Only time will tell!"
Fun Facts:
Wants to learn how to hula dance
Considers herself a grandma to her daughter's pet turtle
Favorite sport is CrossFit
Davia
Hometown: Charleston, S.C.
Job: Marketing manager
Age: 25
"Davia is a bold and strong woman who is ready for Mr. Right! While Davia's life hasn't always been easy, she's always persevered and is ready to receive the love she has given to so many others in her life. Davia loves dancing, listening to Lizzo and reading romance novels like The Seven Husbands of Evelyn Hugo. Davia is ready for marriage and wants it soon! She is looking for an honest man who will prioritize their relationship above all else. Hope you're ready, Zach!
Fun Facts:
No one has helped Davia through breakups more than Taylor Swift
Could live on oysters
Says she can out-burp anyone
Gabi
Hometown: Pittsford, Vermont
Job: Account Executive
Age: 25
"Gabi is ready to find the one! She comes from a very loving family, and her parents' marriage has been the blueprint for the kind of love she hopes to find. Gabi wants an honest, outdoorsy man who will always put her first. While it may take a little time for Gabi to come out of her shell, once she does, Zach will learn that she's adventurous, loyal and driven. Gabi is so ready for marriage that she even has her dream wedding venue picked out in Italy on Lake Como. Hope Zach is ready for a destination wedding!"
Fun Facts:
• Gabi's favorite Kardashian is Kris.
• Gabi loves to tailgate.
• Gabi hopes to own her own Pilates studio one day.
Favorite Kardashian is Kris
Loves to tailgate
Hopes to own her own Pilates studio one day
Genevie
Hometown: Baltimore
Job: Neonatal nurse
Age: 26
"Genevie is definitely the full package, with a smile that lights up every room she walks into! Not only is she a registered nurse, but she's hoping to be CEO of a hospital one day. Boss moves! When she's not working, Genevie loves reading Colleen Hoover books, playing sports and spending time with her family. The Maryland native is looking for a loyal and adventurous man and only dates to find the real deal. When Genevie loves, she loves hard and is looking for the right partner to settle down with."
Fun Facts:
Fears animals that are larger than her
Goes hard for the Baltimore Ravens
Can drive a stick shift … kind of
Greer
Hometown: Houston
Job: Medical sales representative
Age: 24
"Greer is a bold, hilarious woman who isn't afraid to speak her mind. She was born and raised in Houston, Texas, but took a risk and moved to New York City, where she loves living life to the fullest. Greer is loyal and confident and is looking for a partner who can keep up with her quick wit and big personality. She is a hopeless romantic and is a sucker for forehead kisses. Zach, take notes! Will Greer and Zach have the love story of a lifetime?"
Fun Facts:
Loves to shop at flea markets
Says she is never embarrassed
Can tell a lot about someone by their sushi order
Holland
Hometown: Boca Raton, Fla.
Job: Insurance Marketer
Age: 24
"Holland is a spunky and confident woman who needs a man who can keep up with her energy! The top things Holland is looking for in a relationship are unwavering commitment, loyalty and a genuine personality. Oh, and he also MUST love wine and sushi. Hope you're listening, Zach! Pilates and spending time at the beach in her home state of Florida are also important parts of Holland's life, and it would be a huge plus if she could meet someone to enjoy her favorite things with her. Holland knows what she wants, and good luck to anyone who tries to stop her!"
Fun Facts:
• Holland loves yachting with her girls.
• Holland does not function without air conditioning.
• Holland's favorite TV show is "The Bachelor."
Loves yachting with her girls
Does not function without air conditioning
Favorite TV show is The Bachelor.
Jess
Hometown: Winter Springs, Fla.
Job: E-commerce coordinator
Age: 23
"Jess is a sweet soul from Orlando, Fla., who says Zach is her dream man! While Jess is one of the younger women, she is mature, knows what she wants in a partner and doesn't want to settle for anything less than her soul mate. Jess describes herself as a hopeless romantic and is ready for her fairytale romance worthy of a Taylor Swift love song. Jess comes from a big Puerto Rican family and hopes Zach is ready for her to spice up his life. Jess hopes Zach is as excited about her as she is about him!"
Fun Facts:
Favorite date activity is playing with puppies
Doesn't leave the house without sunscreen. Ever
Could play Bananagrams all day and never get bored
Kaity
Hometown: Austin, Texas
Job: ER Nurse
Age: 27
"Kaity is 100% wife material! The Canadian nurse is not only passionate about her career but she's got a great sense of humor and is extremely down to earth. Kaity is looking for her forever Prince Charming and says, 'I truly hope to find love. I have so much love to give to the right man.' Hopefully, Zach is the right man for her! Kaity can't wait to start a family and said that if a man didn't want kids, that would be a dealbreaker for her. Will Zach be the one to show this beauty that true love is out there? Only time will tell."
Fun Facts:
Grew up figure skating
Isn't afraid of sliding into the DMs
LOVES roller coasters. Like, looooves them
Katherine
Hometown: Tampa, Fla.
Job: Registered nurse
Age: 26
"Katherine is a vibrant go-getter with a witty sense of humor and a glass-half-full attitude. She loves spending time with her nieces and nephews and can't wait to have a family of her own. Katherine's career as a registered nurse is extremely important to her, but her No. 1 priority is to find her perfect match. Katherine's dream man is loyal, trustworthy, a great communicator and, most importantly, her best friend. She is looking for a real man who will enhance her life, and she's ready to put it all on the line to pursue love.
Fun Facts:
People say she looks like Julia Roberts all the time
Doesn't camp; she only glamps
Could live off breakfast pastries
Kimberly
Hometown: Los Angeles
Job: Hospitality Manager
Age: 30
"Kimberly is not here to mess around! She was in a serious relationship that lasted six years, but she was ready for her forever, and her ex was not. Kimberly has been single for the past few years and doesn't want just to date around. She is waiting for her perfect man. The Puerto Rican beauty's ideal date night would include watching the sunset at the beach with a picnic dinner. Zach, save that idea for later! Kimberly is ready to find her husband and start a family of her own. She is excited about the chance to fall in love again and can't wait for her Bachelor journey to begin!"
Fun Facts:
Loves to drink wine in her PJs
Can't wait to be a mom one day
Favorite music is old-school hip-hop
Kylee
Hometown: Charlotte, N.C.
Job: Postpartum nurse
Age: 25
"Kylee may best be known as an NBA dancer, but this girl has way more going on than just her killer dance moves and beautiful smile! Outside of her love of dancing, Kylee is a registered nurse who works in a postpartum unit. She is passionate about helping new mothers and can't wait to have a baby of her own ASAP. She may only be 25, but Kylee is ready for the soccer mom life, so hopefully, Zach is on the same page! Kylee admits that she falls in love hard and fast, so time will tell if this hopeless romantic will be able to find her soul mate in Zach."
Fun Facts:
Never has frizzy hair — Olaplex oil for life!
Likes her popcorn smothered in butter and mixed with M&Ms
Celebrity crush is Jimmy Garroppolo
Lekha
Hometown: Miami
Job: Financial advisor
Age: 29
"Lekha is a woman of the world! She was born in Chennai, India, and moved to the United States at 7 years old. Since then, she's lived in California, North Carolina, New York and Florida. It may take a little while for Lekha to come out of her shell, but her exuberant personality and top-notch belly dancing skills are worth the wait! Lekha is ready to find 'the one,' and while her parent's marriage was arranged, they are supportive of her journey to find love and happiness in her own way! Her close-knit family has her excited to start a family of her own. She can't wait to meet Zach and says, 'I want nothing more than to be a great mom and find my person to share a life with.'"
Fun Facts:
Massage is her love language
Going to Stagecoach is on her bucket list
Biggest turn-on? Abs
Madison
Hometown: Fargo, N.D.
Job: Business owner
Age: 26
"Madison is ready to receive the love she gives to so many others! While growing up, Madison took on the role of caretaker for her two younger sisters. So, when it comes to her love life, her little sisters are part of a package deal, and Madison wouldn't have it any other way! She hopes to meet an honest, empathetic, loyal man with a caring family. Madison has worked extremely hard to get to such a great place in life and says she is more than ready to find someone to share it with. She is serious about finding love on this journey, so Madison, let the journey begin."
Fun Facts:
Was a Presidential Scholar in college
Dislikes ALL sauces
Her superpower would be the power to pause time
Mercedes
Hometown: Bloomfield, Iowa
Job: Nonprofit Owner
Age: 24
"Mercedes is a fun-loving, bubbly woman ready to spread her wings! She has four jobs and works extremely hard to support herself, but she is ready to prioritize finding her perfect match. Mercedes is very close with her mother and will definitely be looking for her approval the next time she brings home a man! Mercedes has been in two serious relationships, but both ended because she knew those men weren't her person. While Mercedes loves a night out on the town in Nashville, she also enjoys staying in and cuddling with her dog. She says she's looking for a man who will make her laugh and is someone she can bring to family dinner on Sundays. Mercedes says her love language is giving and receiving gifts, so hopefully, Zach is ready to be showered with tokens of her love!"
Fun Facts:
Shows pigs at the Iowa State Fair
Loves to drive around with the windows down, blasting country music
Would rather order in than cook
Olivia L.
Hometown: Rochester, New York
Job: Patient care technician
Age: 24
"For Olivia L., basketball has always come easy. The one game she's yet to win is Oliva vs. True Love, and this baller is here to find her teammate for LIFE! While basketball was her first love, she's built a life outside of her sport, working full-time in healthcare, and has her dreams set on helping others as a physician assistant. Olivia has traveled to almost every state in the US but still hasn't met her perfect match. She is looking forward to meeting Zach and is hoping to find a relationship that will stand the test of time."
Fun Facts:
Watching Grey's Anatomy inspired her desire to work in medicine
Will yell at people who litter
Comes from a family of jet-skiing enthusiasts
Olivia M.
Hometown: Cincinnati, Ohio
Job: Stylist
Age: 25
"Born and raised in a small town with a loving family, Olivia M. is looking for the love of her life! She may be a city-slicker now, but Olivia will always be a small-town girl at heart. She studied fashion and has a passion for all things style and design. Zach, get your suit ready! When she's not working hard at her career, Olivia loves going to hot yoga, trying new restaurants and cuddling up on the couch to binge-watch TV. Olivia is hoping to meet a loyal, loving and driven man. Will Zach be her prince charming?"
Fun Facts:
Special talent is sounding like a dolphin
Loves to read and has color-coded her bookshelf
Loves carbs
Sonia
Hometown: Long Island, N.Y.
Job: Project manager
Age: 29
"Sonia is the life of the party! This outgoing Long Island girl is ready to settle down and put her dating days behind her. After multiple serious relationships, Sonia knows she's ready for marriage and hopes Zach is her future husband! She says she's looking for a head-over-heels kind of love and truly believes her soul mate is out there. Sonia is extremely close with her family and hopes her future partner is as family-oriented as she is. And while she's a city girl, for now, Sonia is hoping to move to the suburbs one day with her man and raise three golden retrievers. Hopefully, Zach is ready to be a dog dad!"
Fun Facts:
Has been bungee jumping. Twice
Never says no to a game of truth or dare
Is obsessed with Elvis
Vanessa
Hometown: Baton Rouge, La.
Job: Restaurant marketer
Age: 23
"Vanessa is ready to say goodbye to the single life! She is so excited to meet Zach and hopes he's the loyal, charismatic man she's been looking for. Vanessa works in marketing and strives to be as successful as marketing genius Kris Jenner one day. We love a girl that dreams big! And while she's passionate about her work, Vanessa's priority right now is finding her life partner. She considers herself a top-notch foodie, so hopefully, Zach is hungry for good food and a good time! Will this be the end of Vanessa's search for love? Fingers crossed!"
Fun Facts:
Played a lot of freeze tag growing up
LOVES cherries
Dream duet partner is Barry Gibb of the Bee Gees
Victoria J.
Hometown: Fort Worth, Texas
Job: Makeup Artist
Age: 30
"This Texas native is the full package! Ambitious and resilient, Victoria J. is ready to live life to the fullest! She is determined to take chances to finally find the true love she's been searching for. Her parents have been married for over 40 years, and Victoria has her heart set on finding a love like theirs. Victoria is looking for a mature man who will be there for her in good times and bad. She is looking forward to meeting Zach because she knows he's as ready for lifelong love as much as she is!"
Fun Facts:
Has a degree in dance performance
Doesn't understand the hype around Pete Davidson
Music taste is stuck in 200. Emo-punk music for life!
Viktoria E.
Hometown: Vienna, Austria
Job: Nanny
Age: 29
"Viktoria E. is a beautiful, positive woman whose striking looks are only a small part of her story. She was born and raised in Austria but moved to the United States by herself in 2013. Viktoria currently lives in New York City, where she loves being the life of the party and is always up for a new adventure. She is a natural caregiver and is passionate about working with children, so she can't wait to have a family of her own! Viktoria enjoys listening to country music and dreams of visiting Hawaii one day. We can't wait to see if Zach is the loving match Viktoria is looking for!"
Fun Facts:
Doesn't eat blue tortilla chips
Lives for cheesy Christmas movies
Loves to listen to Norah Jones and paint
Get the latest updates, reviews and unmissable series to watch and more!
Editorial Content Producer
Sarabeth joined the Watch to Watch team in May 2022. An avid TV and movie fan, her perennial favorites are The Walking Dead, American Horror Story, true crime documentaries on Netflix and anything from Passionflix. You've Got Mail, Ocean's Eleven and Signs are movies that she can watch all day long.
When she's not working, Sarabeth hosts a podcast dedicated to books and interviews with authors and actors. She's also very close to realizing her lifelong dream of publishing a novel.
Thank you for signing up to Whattowatch. You will receive a verification email shortly.
There was a problem. Please refresh the page and try again.