The Bachelor season 27: next episode, cast and everything we know about Zach's season
The Bachelor is back with Zach on a journey to find true love.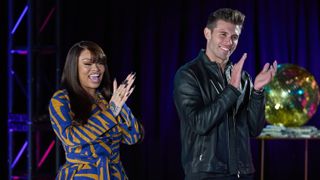 (Image credit: ABC/Craig Sjodin)
Get the roses ready Bachelor Nation because it's time for another season of The Bachelor. ABC's long-running reality dating show returns for season 27 and promises more drama (and likely more tears) than ever before. This time around it's Zach Shallcross' turn to find love. The former contestant on The Bachelorette season 19 hopes to find his future Mrs. from a field of 30 women picked to join him this season.
This season there's a special twist that could impact Zach's future. He actually met a few of the women already when he was announced as the next Bachelor on That Bachelorette: After the Final Rose. Not only did he meet them, but one of the women was voted as America's First Impression Rose Winner, meaning she's safe from the first week's eliminations. You can read more about all of the women competing on the show below.
Here's everything you need to know about The Bachelor season 27.
Next episode of The Bachelor season 27
Staying out past curfewww ✌️ Don't miss a new night of #TheBachelor Monday at 8/7c! pic.twitter.com/rx4cMuPrm4February 4, 2023
The Bachelor season 27 airs Mondays from 8-10 pm ET/PT on ABC. New episodes will be available on demand and on Hulu the day after they air.
Here's the synopsis for Week 3: "During a crucial week, Zach takes two lucky women on jaw-dropping one-on-one dates featuring prehistoric creatures and a romantic musical performance."
As of this writing, there's no word on a release date for the current season to air in the UK but previous seasons are available on Hayu.
The Bachelor season 27 episode guide
Keep track of the episodes with this handy guide:
The Bachelor season 27 week 1: "Zach meets 30 women looking for love."
The Bachelor season 27 week 2: "Zach continues to carve his own path and decides to give each of the 20 women a chance to take the next step on their journeys to potential love; Zach takes off on a helicopter ride to his hometown for his first one-on-one date."
Who is the bachelor in The Bachelor season 27?
As with other seasons of The Bachelor, this season's man of the hour is someone Bachelor Nation has seen before. Zach Shallcross, aka Mr. Right Reasons, first appeared during The Bachelorette season 19, and he made a tough decision to leave when he realized that love was not meant to be.
Here's ABC's official introductory statement about Shallcross:
"Zach Shallcross is an endearing 26-year-old tech executive from Anaheim Hills, California, who stole the Bachelor Nation's heart on season 19 of The Bachelorette with his quiet charm, wit and openness to finding lasting love. After a painful realization that Bachelorette Rachel Recchia wasn't his perfect match, audiences saw Zach put himself and his desire to meet 'the one' first when he emotionally self-eliminated, opening the door for his person to walk through.
"Born and raised in California, Zach loves beach volleyball, football, his dogs and, of course, his mom, but he knows he has much more love to give ― he's ready to add 'life partner' to that list."
The Bachelor season 27 contestants
30 women will vie for Zach's affection in The Bachelor season 27, but this time around there's a twist: 4 of them have met him already.
When Zach was announced as the new bachelor on That Bacherlorette: After the Final Rose, he had a chance to meet four of the women — Bailey, Brianna, Brooklyn and Cat — who would compete for his affection.
Fans even got in on the action by choosing America's First Impression Rose Winner, a distinction that went to Brianna. With that First Impression Rose, Brianna is now safe from elimination during the first week.
While 30 women is a lot to choose from, we all know how quickly that number is whittled down over the course of the first few weeks, so get to know the names ahead of the new season so you can keep track.
Aly, 26, a healthcare strategist from Atlanta, Ga.
Anastasia, 30, a content marketing manager from San Diego, Calif.
Ariel, 28, a marketing executive from New York City, N.Y.
Bailey, 27, an executive recruiter from Nashville, Tenn.
Rebecca, "Becca," 25, a nursing student from Burbank, Calif. (Eliminated Week 1)
Brianna, 24, an entrepreneur and America's First Impression Rose Winner from Jersey City, N.J.
Brooklyn, 25, a rodeo racer from Stillwater, Okla.
Cara, 27, a corporate recruiter from Pittsburgh, Penn. (Eliminated Week 1)
Cat, 26, a dancer from New York, N.Y. (Eliminated Week 2)
Charity, 26, a child and family therapist from Columbus, Ga.
Christina Mandrell, 26, a content creator from Nashville, Tenn.
Davia, 25, a marketing manager from Charleston, S.C.
Gabriella "Gabi," 25, an account executive from Pittsford, Vt.
Genevie, 26, a neonatal nurse from Baltimore City, Md.
Greer, 24, a medical sales rep from Houston, Texas.
Holland, 24, an insurance marketer from Boca Raton, Fla. (Eliminated Week 1)
Jessica "Jess," 23, an e-commerce coordinator from Winter Springs, Fla.
Kaitlyn "Kaity," 27, an ER nurse from Austin, Texas.
Katherine, 26, a registered nurse from Tampa, Fla.
Kimberly, 30, a hospitality manager from Los Angeles, Calif. (Eliminated Week 2)
Kylee, 25, a postpartum nurse from Charlotte, N.C.
Chandralekha "Lekha," 29, a financial advisor from Miami, Fla. (Eliminated Week 1)
Madison, 26, a business owner from Fargo, N.D. (Eliminated Week 1)
Mercedes, 24, a nonprofit owner from Bloomfield, Iowa
Olivia L., 24, a patient care technician from Rochester, N.Y. (Eliminated Week 1)
Olivia M., 25, a stylist from Cincinnati, Ohio (Eliminated Week 1)
Sonia, 29, a project manager from Long Island, N.Y. (Eliminated Week 1)
Vanessa, 23, a restaurant marketer from Baton Rouge, L.A. (Eliminated Week 1)
Victoria J., 30, a makeup artist from Fort Worth, Texas (Eliminated Week 2)
Viktoria E., 29, a nanny from Vienna, Austria (Eliminated Week 1)
The Bachelor season 27 host
Jesse Palmer returns to host The Bachelor season 27. Palmer has been spotted all around Bachelor Nation with hosting duties on The Bachelorette and Bachelor in Paradise.
The Bachelor season 27 trailer
ABC provided a first look at Zach Shallcross in action as the new bachelor. Take a look at the teaser below:
How to watch The Bachelor season 27
The Bachelor airs Mondays on ABC starting January 23, with new episodes streaming the next day on Hulu. ABC is included in most cable packages, but if you've cut the cord, then you can watch shows on ABC without cable through a live streaming service like YouTube TV, Hulu with Live TV or FuboTV.
The Bachelor can be found in the UK on Hayu but there's no word on when season 27 will be available. We'll be sure to update you as soon as that information becomes available.
Get the latest updates, reviews and unmissable series to watch and more!
Editorial Content Producer
Sarabeth joined the Watch to Watch team in May 2022. An avid TV and movie fan, her perennial favorites are The Walking Dead, American Horror Story, true crime documentaries on Netflix and anything from Passionflix. You've Got Mail, Ocean's Eleven and Signs are movies that she can watch all day long.
When she's not working, Sarabeth hosts a podcast dedicated to books and interviews with authors and actors. She's also very close to realizing her lifelong dream of publishing a novel.
Thank you for signing up to Whattowatch. You will receive a verification email shortly.
There was a problem. Please refresh the page and try again.