Rihanna Super Bowl setlist: we make our best guesses
We combed through Rihanna's award-winning catalog to make our best guesses on her upcoming setlist.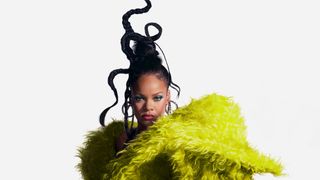 (Image credit: Apple Music)
It's been almost five years since multi-Grammy-winning and chart-topping artist Rihanna has performed live in public. For her millions of adoring fans, known as The Navy, her presence in the music world has been sorely missed. While her musical comeback was teased when she released the Oscar-nominated song "Lift Me Up" for Black Panther: Wakanda Forever, it's her return to a big stage that truly has her supporters excited, and what's a bigger stage than the Super Bowl halftime show?
As with the musicians that performed before her during the Super Bowl, the details about her plans for the 12-15 minute set have been kept as a closely guarded secret. She hasn't hinted at who may join her on the stage, nor has she revealed what tracks she's going to be singing.
With all that said, like many of you, we decided to think about what hits Rihanna might entertain viewers with during the NFL's big game. Looking at some previous shows, Beyoncé's 2013 performance included 10 songs, Jennifer Lopez and Shakira's 2020 set consisted of 15 tracks and Dr. Dre's fueled show featured 10 hits. Using history as a guide, we somehow managed to cap our guesses as to what Rihanna will be singing to 10 songs (which wasn't easy).
Now without further ado, here is what WTW believes Ms. Fenty will perform at the 2023 Super Bowl halftime show.
1. Pon De Replay (2005)
This was Rihanna's debut song in the music industry and peaked at No. 9 on Billboard's Hot 100. The uptempo track certainly made many listeners move in their seats, and even persuaded some to take their talents to the actual dance floor.
2. SOS (2006)
Sampling the 1981 hit song "Tainted Love," this Rihanna hit became her first number-one charting song. As such, she would be remiss not to include the pop track in her Super Bowl setlist.
3. Umbrella (2007)
While the songs that came before this put Rihanna on the map, "Umbrella" made her a household name. In 2007, you would have been hard pressed to find someone not singing the words "Under my umbrella, ella, ella, eh, eh, eh." The track charted seven weeks at number one and earned the musician her first Grammy.
4. Live Your Life (2008)
"Live Your Life" is technically rapper T.I.'s song that features Rihanna. However, the feel-good message is perfect for a Super Bowl setting and her verse on the track is snippet ready for a 12-15 minute performance.
5. Only Girl (In the World) (2010)
"Only Girl" was the first single from her Loud album and, you guessed it, was a chart-topping song for the pop music legend. It also won a Grammy for Best Dance Recording.
6. What's My Name (2010)
Rihanna and Drake have a tendency to collaborate and make nothing but hits. Their first venture together was "What's My Name," and music lovers simply couldn't get enough of the track. Again, it's a song that peaked at number one.
7. We Found Love (2011)
Talk about a song that makes you just want to jump and fist-pump. The Calvin Harris-produced track is a ball of high energy and earned Rihanna a Grammy for Best Music Video. Considering how fun "We Found Love" is, we all but guarantee she'll perform it during the halftime show.
8. Diamonds (2012)
Ms. Fenty is not always synonymous with ballads, but "Diamonds" has to be her best one. It "shines bright" as her 12th number-one Billboard song and is one she tends to gravitate toward when performing melodies of her greatest hits.
9. Work (2016)
Again, Drake and Rihanna make magic in the studio together. "Work" is a Grammy-nominated record, a chart-topper and it's downright catchy. This makes you wonder if Drake will be a surprise guest during the halftime show.
10. A new release
There have been rumblings that following her highly-anticipated performance, Rihanna plans to announce a world tour. Considering many artists these days don't go on tour without releasing new music, we envision she has some headed our way. What better way to premiere a song than to millions watching the Super Bowl?
Now if you're looking to take a ride through Rihanna's greatest hits, Apple Music (opens in new tab)currently has a Rihanna Essentials playlist.
The Super Bowl airs on Sunday, February 12 on Fox.
Get the What to Watch Newsletter
The latest updates, reviews and unmissable series to watch and more!
Terrell Smith has a diverse writing background having penned material for a wide array of clients including the federal government and Bravo television personalities. When he's not writing as Terrell, he's writing under his pseudonym Tavion Scott, creating scripts for his audio drama podcasts. Terrell is a huge fan of great storytelling when it comes to television and film. Some of his favorite shows include The Crown, WandaVision, Abbot Elementary and Godfather of Harlem. And a fun fact is he's completely dialed into the TLC 90 Day Fiancé universe.