The L Word: Generation Q season 3 episode 9 recap: radical honesty leads to radical changes
Big moments for Shane, Alice, Bette and Tess and more.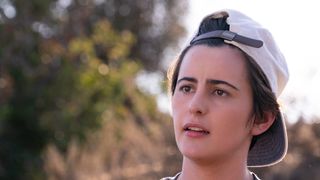 (Image credit: Isabella Vosmikova/SHOWTIME)
NOTE: this post contains spoilers for The L Word: Generation Q season 3 episode 9 "Quiet Before the Storm."
New beginnings, necessary endings and a surprise encounter are bringing the women closer to finding true love, or at least authenticity, as The L Word: Generation Q gets ready to wrap up season 3.
In the last episode, Carrie (Rosie O'Donnell) suffered a heart attack, but this episode begins with her being released from the hospital. She survived the heart attack, but she's got to make some lifestyle changes to improve her health. Finley (Jacqueline Toboni) is there to motivate her to get moving and eat healthy while Misty (Heidi Sulzman) provides support and encouragement.
Misty and Carrie shouldn't work so well together but they are one of the best couples on the show. Their appreciation for each other and acceptance of each other's quirks is wonderful to see. After some radical honesty and vulnerability from Carrie, the two finally consummate their relationship.
Finley has a moment of radical honesty with herself. It's been a struggle for Finley to figure out her life, but with solid support from Carrie she's going to be just fine getting on her own feet. She decides to start looking for her own apartment.
Shane walks away for the right reasons
Shane (Kate Moennig) finally hits Tess (Jamie Clayton) with some radical honesty and says she never wanted to buy the second bar, she only did it to make Tess happy. Shane wants to turn the second bar space into a salon. Also, her affair with Ivy (Kehlani) made Shane realize she wasn't happy with Tess but she also wasn't happy with herself. She wants to get back to doing hair and owning a salon.
Tess doesn't take Shane's honesty very well, which is really not a surprise considering Tess has lost so much in such a short time. After throwing a bottle at the wall, Tess storms out of the second bar leaving Shane to pick up the pieces and move on.
Angie's radical choice
Angie (Jordan Hull) is supposed to give a reading of one of her poems for Hendrix's (Simon Longnight) class, but she doesn't want to face him. But her mamas swoop in at the least minute and she's forced to get herself together and go.
Bette (Jennifer Beals) and Tina (Laurel Holloman) arrive from Toronto in helicopter parent glory trying to be cool, letting Angie make her own choices while also mother henning her. Bella (Sari Arambulo) also goes to the reading; could something be developing between the two?
But after Angie delivers her radically honest and raw poem, Shane lets it slip to Bette and Tina that Hendrix is Angie's ex. Infuriated at a professor abusing his position and dating a student, Tina makes a scene at the reading and calls Hendrix out.
Angie, embarrassed by Tina and angry at all of them for refusing to recognize her agency to make her own decisions about who she wants to date, goes to see Hendrix in his office. He's packing up because he resigned rather than be forced to quit. He's fine with the outcome and is happy to have the time to focus on his book. But these two are not ready to quit each other and have a romantic encounter in his office.
The wedding everyone has waited for
Bette and Tina regroup after the fight with Angie. They don't make it to dinner because of all the drama, so Tina and Bette grab burgers and talk about their long history and being together forever. Tina suggests they should get married and Bette pulls out the ring she was planning on proposing with. These two are always in sync. They decide they're going to throw a giant wedding to celebrate each other, their friends and spending their lives together.
Alice's really bad day
Alice (Leisha Hailey) gets canceled by social media after video clips of her confronting Taylor (Joey Lauren Adams) at the movies go viral. All of her past mistakes are dragged back up into the light by social media users, including when she outed a professional athlete in the original L Word series.
Sponsors threaten to pull their ads, the network is not happy and Alice's biggest guest to date, Rachel Maddow, pulls out of an appearance on her show at the last minute because of the drama. Alice refuses to do the final episode of the season and Sophie (Rosanny Zayas) gets her chance to do the show her way.
Sophie shines as she pulls in queer talent from all disciplines to perform, including Dre (Carmen LoBue). This is her chance to flex her producer muscles and show what she can really do and she's loving every minute of it. But Alice is having one of the worst days ever. She has to reckon with some radical self-honesty about her past and what's right for her moving forward. When she gets home she finds the window open and Mr. Piddles missing.
Alice walks the streets looking for Piddles, who is very high up in a tree. She calls the police for help and the fire department comes to get Piddles down. But she gets a major shock when one of the firefighters is Tasha (Rose Rollings). Which, let's face it, everyone saw coming.
Tasha and Alice immediately start bickering and their chemistry is still there. Is Tasha really Alice's person? Hopefully that answer and more will be revealed in next week's The L Word: Generation Q season 3 finale.
New episodes of The L Word: Generation Q air on TV Sundays on Showtime.
More on The L Word: Generation q
Get the latest updates, reviews and unmissable series to watch and more!
Sonya has been writing professionally for more than a decade and has degrees in New Media and Philosophy. Her work has appeared in a diverse array of sites including ReGen, The Washington Post, Culturess, Undead Walking and Final Girl. As a lifelong nerd she loves sci-fi, fantasy and horror TV and movies, as well as cultural documentaries. She is particularly interested in representation of marginalized groups in nerd culture and writes reviews and analysis with an intersectional POV. Some of her favorite shows include Game of Thrones, The Walking Dead, The Handmaid's Tale and The Sandman.
Thank you for signing up to Whattowatch. You will receive a verification email shortly.
There was a problem. Please refresh the page and try again.