Valentine's Day messages from Interview with the Vampire, Grey's Anatomy and more
See Valentine's Day messages from all your favorite TV shows.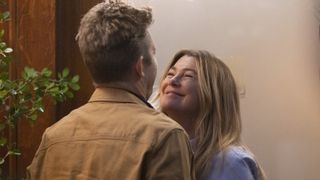 (Image credit: ABC/Liliane Lathan)
It's Valentine's Day and it doesn't matter if you're single or in a relationship, you can always turn to your favorite TV show for a funny and sweet Valentine. From new shows like Interview with the Vampire to beloved veteran shows like Grey's Anatomy and even game shows like Jeopardy!, there's no shortage of shows sending greetings to fans.
It's always fun seeing the clever and creative ways that social media teams celebrate holidays, but there's something really special about Valentine's Day social media because the focus can be on anything from favorite couples, quotes from the show, throwback moments or anything else — the sky's the limit!
AMC's Interview with the Vampire was one of the hottest new shows of the fall 2022 TV season and their Valentine featuring Louis (Jacob Anderson) and Lestat (Sam Reid) can only be described as smoldering. The image, taken from a scene just prior to one of the many bloodbaths in the season finale, features Louis and Lestat dancing at Mardi Gras and is captioned "I send my love to you, and you send it back round to me."
The Grey's Anatomy tweet features a play on Meredith's memorable "pick me, choose me, love me" message to Derek in season 2. In their Valentine's Day tweet, members of the cast talked directly to fans, letting them know that "we pick you, we choose you, we love you." Aww, the feels!
The good folks at Starz used the occasion to share a special rendition of the Outlander season 7 theme song, "The Skye Boat Song," sung by none other than the legendary Sinead O'Connor.
CSI: Vegas offers a fun play on the holiday with pun-laden crime scene Valentines for your "person of interest," while Celebrity Wheel of Fortune has a love-themed puzzle and lots of Wheel puns for fans to solve. American Horror Story even gets into the action with a throwback picture of Jessica Lange from season 2's Asylum.
With so many fun tweets, it's hard to pick the best so let's just say that TV fans are all winners on Valentine's Day!
Take a look at some of the best TV tweets celebrating Valentine's Day:
Get the What to Watch Newsletter
The latest updates, reviews and unmissable series to watch and more!
Editorial Content Producer
Sarabeth joined the Watch to Watch team in May 2022. An avid TV and movie fan, her perennial favorites are The Walking Dead, American Horror Story, true crime documentaries on Netflix and anything from Passionflix. You've Got Mail, Ocean's Eleven and Signs are movies that she can watch all day long.
When she's not working, Sarabeth hosts the My Nights Are Booked Podcast (opens in new tab) and blog (opens in new tab) dedicated to books and interviews with authors and actors. She also published her first novel, Once Upon an Interview (opens in new tab), in 2022.