Alfie and Jade skydive for charity in Hollyoaks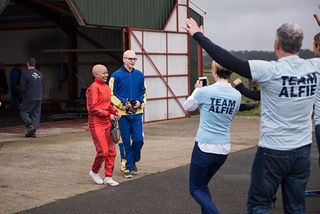 It's chocs away as young lovebirds Alfie and Jade brace themselves to do their big charity skydive on (opens in new tab)Hollyoaks.
The determined pair, who have both been diagnosed with Hodgkin Lymphoma do their best to battle any last-minute nerves as they prepare to be flown thousands of feet up into the air. Having previously split up, the pair reunite and are determined to face their cancer head on. Jade is delighted Alfie has decided to join her at the last minute and is grinning from ear to ear.
Meanwhile their family and friends are out in full force to cheer the youngsters on their way. Time for take off....are they going to bottle out at the last minute?
Of course they're not!
As they clamber aboard the aircraft, at least they've got each other for support....
So who's jumping first? Alfie is looking thoughtful. Perhaps it's ladies first?
Watch Hollyoaks on Channel 4 from Monday, June 13.
Thank you for signing up to Whattowatch. You will receive a verification email shortly.
There was a problem. Please refresh the page and try again.