Bride-to-be Grace gets The Dreamboys…but does she get her dream wedding in Hollyoaks?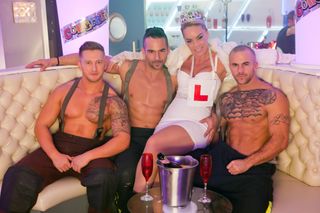 Weddings rarely end well in Hollyoaks and, as Tamara Wall (opens in new tab) reveals to Soaplife, Grace may be headed for a big-day disaster…
How is Grace feeling in the run up to the wedding?
"Jittery, because she's convinced Trevor is having an affair and she's scared she'll be jilted at the altar. However, she has no idea that Sienna is in love with her husband-to-be or that Sienna's nutty daughter, Nico [Persephone Swales-Dawson (opens in new tab)], knows they had an affair."
How badly does Grace want to be Trevor's wife?
"There's a scene on the morning of the wedding where Grace basically tells Trevor [Greg Wood (opens in new tab)] that this is all she's ever dreamed of since she was a little girl. She begs him not to let her down. But there is every chance Grace could find out about Sienna while walking up the aisle."
What can you tell us about Grace's hen do?
"The day we filmed that was the best day of my life as we had the Dreamboys as strippers! I can't lie, at one point, I was like, 'This is brilliant! Where's the alcohol?' It starts off on a weird note, though, because Esther Bloom [Jazmine Franks (opens in new tab)] has arranged a tea party as the hen do. Grace thinks it's just to line their stomachs for the main event, so Esther has to arrange more in a panic."
Does Grace notice Sienna slipping away?
"No, she's really drunk and she's too busy with the Dreamboys!"
But she notices that the tyres on her wedding car have been slashed!
"And she blames it on Darren Osbourne [Ashley Taylor Dawson (opens in new tab)], thinking someone has something against him. But everybody else tells Grace she has so many enemies that it must be one of them. Trevor manages to calm her down. At one point, she's running around the village in her dressing gown and rollers."
What happens when Grace gets to the church?
"Trevor's nowhere to be seen and she's literally screaming her head off. She's in this gorgeous dress with flowers and a veil shouting, 'I'm going to kill him!'"
Does he show up?
"Yes and, all of a sudden, Grace is the happiest girl in the world. She has everything she ever wanted. Curtis is there and Esther and Sienna are her bridesmaids. Trevor's stood at the altar with perfect love in his eyes and it's quite an emotional moment."
What can you tell us about the finale?
"All I can say is that when Anna Passey (opens in new tab) [Sienna] and I first read the script, we bawled our eyes out. It's really emotional. I'd tell the viewers 'Tune in! It will be worth it'."
Hollyoaks (opens in new tab), Channel 4
Get the What to Watch Newsletter
The latest updates, reviews and unmissable series to watch and more!