Hollyoaks' Cameron Moore: 'You would NOT want to be Cameron at Christmas...'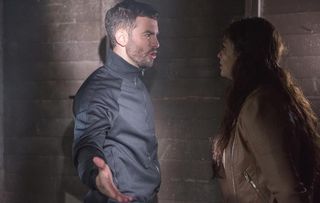 Actor Cameron Moore talks about the fate of Celine McQueen, who is being held hostage by multiple murderer Cameron Campbell in Hollyoaks
With a death toll rivalling that of the Gloved Hand Killer, Cameron Campbell is getting scarier by the minute. Now, he has Celine McQueen in his clutches and, according to actor Cameron Moore, who plays the sinister chef, the poor girl has a 50/50 chance of being alive by Christmas.
"He'll kill anyone he has to – apart from Peri," he said. "But in his head, he justifies it all by saying, 'It's for the family!'"
Will Celine live or die?
Would he really kill the lovely Celine?"He will if she stands in his way. He's never happily killed someone. It's all been to keep the family together. He used to go out with Celine [Sarah George], so there's a real personal connection there. But she isn't safe. He'll do whatever it takes to regain control."
How can Celine save herself?"She tries to reason with him, but what he has to do is threaten her in such a way that she won't report him. Celine's trouble because she knows Cameron started the fire at Halloween. She also sees Lockie's message carved onto the floor of the shack. She's top of the hit list.
"There's nobody he wouldn't murder – Courtney [Amy Conachan], Tegan [Jessica Ellis], Leela [Kirsty-Leigh Porter], Ste [Kieron Richardson]. His daughter, Peri [Ruby O'Donnell], is the only person who's safe."
But he loves Leela, why would he kill her?"He does love her and he's looking forward to their wedding. He's genuinely upset when she suggests postponing it because she doesn't like the way she looks in her dress. However, he's become obsessive about Peri."
Why does Cameron end up getting arrested?"He has Celine in the shack and he's feeling tense. First of all, he punches Adam [David Brown] because he keeps pestering him about Celine's whereabouts. Then, Ryan [Duncan James] pulls him over and he's a bit of a jobsworth over a broken tail light. Cameron's so assaulting a police officer."
What goes through his mind when he's in the cell? "He panics because Celine's in the shack and she needs food and water. Also, he worries she might escape or be found. He ends up back-tracking and apologising to Ryan."
How will he deal with the fact everyone is looking for Celine? "There's a coming together of him and Cleo over Celine missing. She and Jesse [Luke Jerdy] are determined to find her, but Cameron thinks he's more than a match for them and isn't too worried."
Will Cameron get his comeuppance?"Somebody wrote an article the other day, which was 'The 12 Ways Cameron Could Get Found Out and Leave the Show'. But I don't want that to happen just yet. He's gone this far, why can't he carry on?"
What will his Christmas be like?"There are wedding bells and about 45 seconds' worth of happiness. It's going to be full on. You wouldn't want to be Cameron at Christmas."
Hollyoaks, Channel 4
Get the latest updates, reviews and unmissable series to watch and more!
Thank you for signing up to Whattowatch. You will receive a verification email shortly.
There was a problem. Please refresh the page and try again.