'Armstrong's got what he wants – Cindy leaning heavily on him,' says Hollyoaks' Andrew Hayden-Smith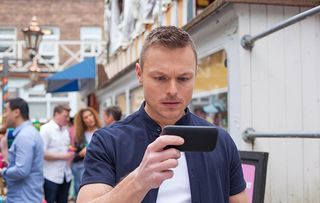 Stalker DS Armstrong has plans for Cindy in Hollyoaks…And they don't sound all that pleasant! Actor Andrew Hayden-Smith explains all
Cindy Cunningham is thrilled when DS Gavin Armstrong offers to escort her to a conference for powerful women. Little does she know he's behind the hate campaign against her. Leela Lomax is on to him, but will she blow the whistle?
"He doesn't want Leela on the scene," Andrew Hayden-Smith told Soaplife. "He knows who her baby's dad is and he uses that to stop her from blowing his cover."
Armstrong is seriously creepy… What on earth is going on in his head? "All this stems from being rejected by his mother. He likes strong women, blondes – he loves mums really! He also likes being in control, which is why he can't go about things the normal way and ask a woman out. He's a strange one all right!"
And what is it he likes about Cindy? "She's feisty and he really likes that. That's what attracts him to Cindy [Stephanie Waring], but it could also be that he's met his match with her."
But she trusts him… "Yes, she does. He's put the frighteners on Cindy with this hate campaign and now she's leaning on him heavily, which is what he wants!"
Leela knows his game, though! "She does and, when she turns up at the Cunninghams' as a cleaner, it's the last thing Armstrong wants because she could blow the whistle at any minute. He knows her big secret, but he's still worried enough to plant Cindy's engagement ring on her to make it look like she's stealing it."
Does Leela warn off Cindy? "You'll have to wait and see. Armstrong manages to get Cindy to go to this powerful women conference in Liverpool and Leela's desperate to warn her."
What does he want from Cindy? "In his head, he thinks he has this romantic evening ahead. He's even got lingerie for her. It's not going to happen because she's happy with Dirk. He just wants one of these strong women to want him."
Is Cindy in danger from Armstrong? "Yes. When he doesn't get his way, he can be dangerous. We've already seen him throw Zack Loveday down the stairs."
What's in store for him? "There's a character from his past who'll turn up, so keep an eye out."
Hollyoaks, C4
Get the What to Watch Newsletter
The latest updates, reviews and unmissable series to watch and more!