Darcy hasn't done her worst yet, says Hollyoaks star Aisling Jarrett-Gavin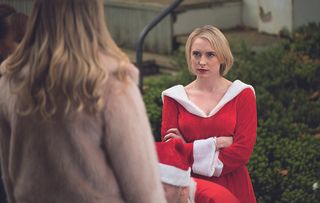 Aisling Jarrett-Gavin tells Soaplife how Maxine's return to Hollyoaks has Darcy very worried this Christmas!
Maxine Donovan is back in Hollyoaks and one person who's really not pleased to see her is Darcy Wilde, as Aisling Jarrett-Gavin reveals
What's the story?
Darcy Wilde has got her claws back into Adam Donovan, but still sees his ex-wife, Maxine as a threat and knows that if he ever finds out that Glenn Donovan is really Toby's dad, it's game over. "She's on tenterhooks," Aisling Jarrett-Gavin told Soaplife. "Glenn knows so many of her secrets he could ruin everything."
What's happening in Hollyoaks? See the latest soap storyline
Aisling Jarrett-Gavin reveals all to Soaplife
Soaplife: How does Darcy feel about Maxine being back?
Aisling Jarrett-Gavin: "She is not happy, especially as she has returned looking really hot. It has got her back up. She has finally got what she wanted and thinks that Maxine is going to ruin it."
S: Why does she tell Maxine that she and Adam are trying for a baby?
AJ-G: "It's a lie she blurts out in the moment, as she knows it will annoy Maxine, who is making out she is over Adam, but it is obvious she isn't. Maxine is dumbfounded. It'a like a punch in the stomach for her."
S: Does Darcy want a baby with Adam?
AJ-G: "That would be perfect as it is another way of making sure that Adam stays with her."
S: What happens when Glenn plots to get Maxine and Adam back together?
AJ-G: "He convinces Darcy that something is going on, and she goes round and Maxine and Adam open the door to find her standing there. It is so embarrassing. Maxine laughs at her. She thinks it is pathetic."
S: What does Darcy think about Glenn?
AJ-G: "Glenn is the one guy she is really frightened of. He has got power over her, he scares her and intimidates her. He knows so many of her secrets; he could ruin everything at any minute by telling Adam that Toby is not his son."
S: Why can't Adam see how manipulative Darcy is?
AJ-G: "He is very gullible. Darcy has a way of manipulating people into thinking they are doing the right thing."
S: What lies ahead?
AJ-G: "Whatever secrets come out, Darcy will do everything she can to ensure that she and her son are living a good life. She won't go anywhere until she has gone to the darkest point she can with her lies and manipulation. There is more to come!"
S: What are you doing for Christmas?
AJ-G: "Relaxing in the countryside mostly. I will be in London for a day at my mum's, but my husband is from Keele, a little village in the North, and we are going to go up there and have a lovely, quiet time."
Hollyoaks, C4
Get the latest updates, reviews and unmissable series to watch and more!
Thank you for signing up to Whattowatch. You will receive a verification email shortly.
There was a problem. Please refresh the page and try again.