Hollyoaks announce return of Darren Jeffries to the role of O.B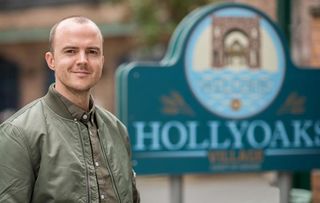 Actor Darren Jeffries is returning to Hollyoaks after an eight-year absence, but O.B will be back in the village without his mate Max Cunningham
Actor Darren Jeffries is back in Hollyoaks as the much-loved Sam 'O.B' O'Brien returns to the village.
O.B returns to Hollyoaks after the disappearance of the Osborne family and teams up with Cindy and Grace to get to the bottom of the case.
Darren said: "It's an absolute pleasure to bring O.B back to Hollyoaks village. If anyone can get to the bottom of where the Osbornes are it's him. I still can't believe it's been over eight years since I left the show, it feels like I've never been away."
O.B first arrived in Hollyoaks in 1997 and is best known for his 'bromance' with Max Cunningham (Matt Littler). Together they won Best On-screen Partnership at the British Soap Awards in 2008, and Darren and Matt continued to work together as TV hosts after they left the Channel 4 soap.
During more than a decade in Hollyoaks, O.B's most memorable storylines include his intense rivalry with Max's killer wife, Claire Devine (Gemma Bissix) and when he saved Max from being killed by her in a lakeside showdown.
O.B also had a relationship with Summer Shaw – played by West End star Summer Strallen – which prompted a cameo from Andrew Lloyd Webber when Summer was cast in The Sound of Music in a special cross-over episode.
O.B will be back in Hollyoaks in the week starting November 14.
Get the latest updates, reviews and unmissable series to watch and more!
Thank you for signing up to Whattowatch. You will receive a verification email shortly.
There was a problem. Please refresh the page and try again.